Which Artificial Grass is Best for Putting Greens?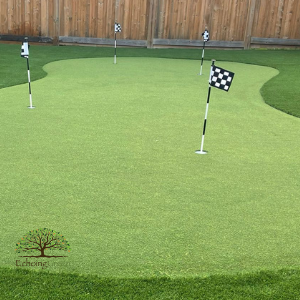 The best artificial grass for putting greens is Echo Pro Putt and Echo Pro Putt 70. Outdoor putting green turf is a great way to revolutionize any residential or commercial property for those who love golf.
Echo Pro Putt 70
With 100% nylon fibres paired with a durable polyurethane backing, there's no doubt you'll love this high-quality artificial grass Toronto. This luxury putting green transforms any yard into a beautiful and well-functioning putting green. The Echo Pro Putt 70 has UV protection and is designed for sufficient drainage, enhancing performance and longevity.
Echo Pro Putt
This pristine, natural-looking synthetic grass is a high-quality, European-made turf designed for smooth ball rolls and enhanced performance. The self-maintaining Eco Pro Putt offers UV protection and superior drainage capabilities. This artificial turf is durable and made for anyone who wants to take lawn maintenance off their to-do list.
Choosing Artificial Grass for Putting Greens
Putting greens are customizable, mess-free and have superior performance, so you can play every day with no damage. Save on time and money when you upgrade to putting turf. Outdoor putting green turf allows you to achieve green, luscious, and high-quality grass without regular maintenance like mowing, watering, and fertilization.
Putting green turf is long-lasting and will leave no divots, burns, or stains. When installed correctly, the turf is designed explicitly for top-tier putting and ball roll throughout all seasons. With quality infill, the grass fibres can stay upright, preserving the turf's play and ball roll. Whether you install indoors or outdoors, it's best to contact professionals to ensure a perfect installation.
Contact Echoing Green for putting green installation today!