Schools and Daycares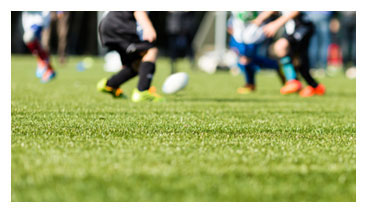 There's nothing better for both parents and children than being outdoors in the fresh air and playing in a clean and child safe environment. Synthetic turf offers a long-lasting and cost effective solution for both schools and daycares, providing long standing benefits. The ideal play area for children is a clean, safe, cushioned area absent of allergens, mud and unwanted pests. With a synthetic turf playground there's no worry about chemical use: no fertilizers, weed killers or pesticides, additionally there'll be no more grass stains or mud stains.

Public playgrounds and daycares must adhere to certain requirements to minimize risk and injuries due to falls. Hardscapes and natural grass is not an ideal ground cover due to it being too hard with nothing to absorb the shock of the falls which may lead to more serious injuries. Synthetic playground turf with our Playlite under pad meets safety requirements and will help mitigate serious injuries. We offer a 1" Playite which offers a 6' fall rating or a thicker 2" Playlite which offers a 12' fall rating. This under pad is also highly drainable. We also offer our Echo Custom grass with a foam underlay which can be customized for a variety of playground uses.
Options like sand or wood chips in playgrounds are not ideal as they can erode, compact and disperse over time, leaving a very thin coverage for children to play. Synthetic playground turf is an ideal solution as it's installed on an immovable base and can last 15-20 years. Echoing Green's artificial grass offers an aesthetically pleasing solution to high traffic areas commonly found in schools (both public and private), community play areas, campuses and other outdoor common areas.
See why more people are considering synthetic turf for Playgrounds and Daycares:
Minimal maintenance
No pooling
Great in treed areas where grass won't grow
No more grass stains
No more mud
Toxin free
No more muddy shoes
Softer Play Area
Great for rough play
No more bald patches or yellow grass
No discoloration or fading
Safe for everyone including pets
Free of harmful pesticides, fertilizers, or chemicals
Great in high-traffic areas where real grass my appear sparse or thin
Does not require watering