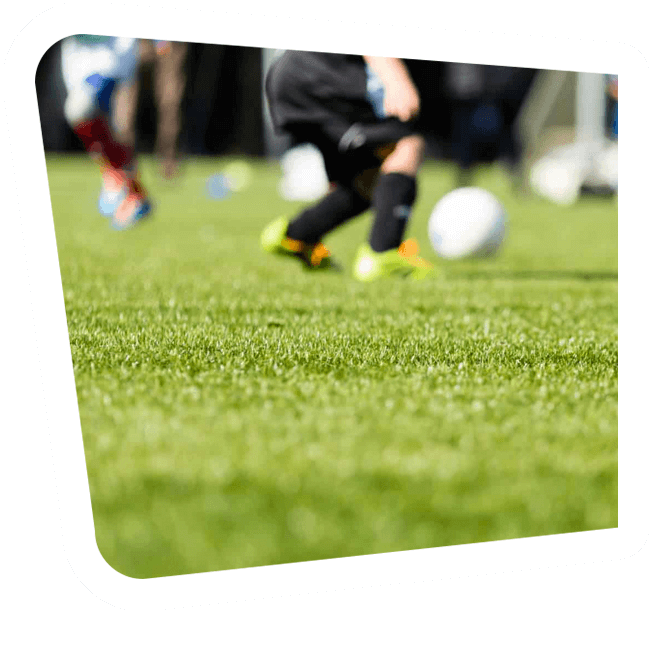 Safe, Kid-Friendly Playground Turf
If there's one thing children love, the ability to play and run outside in the grass. When it comes to caregivers, teachers, guardians, all you want is for your kids to enjoy themselves in a safe environment. Indoor or outdoor artificial grass for playgrounds provides a comfortable and safe environment that offers peace of mind while keeping kids happy.
Why Not Traditional Playground Flooring?
Options like sand or wood chips in playgrounds are not ideal as they can erode, compact and disperse over time, leaving a very thin coverage for children to play. Synthetic playground turf is an ideal solution as it's installed on an immovable base and can last 15-20 years.
Reduce School & Daycare Injuries
In 2015, over 1500 kids were sent to the emergency room for injuries sustained on the playground, according to the Canadian Public Health Association.
For kids, playtime often means running and jumping, leading to slipping and falling. Since kids are naturally injury-prone, public playgrounds and daycares must adhere to specific requirements and regulations to mulch or even sand are not ideal flooring options compared to playground turf from Echoing Green.
From the material components to installation, our specialty turf is designed to reduce the potential injuries during playtime while enabling kids to still act like kids.
Drainage: When surfaces become more slippery, children are more susceptible to injury. Wet pavement or natural grass exposed to rainfall or other precipitation becomes a fall hazard almost immediately. Artificial grass in Toronto from Echoing Green is designed with advanced, permeable polyurethane backings that allow water to flow and drain without pooling or collecting at the surface to avoid the potential for slips.
Underpadding: When a child trips, the impact of the fall influences the severity of the injury that follows. When landing on hardscapes such as concrete or asphalt, the physical impact will be much harsher than artificial grass for playgrounds. Installed with EchoPlay under padding, our playground turf offers exceptional shock-absorbency with a fall rating that accounts for the critical fall height.
Easy to Clean: Part of caring for children at a daycare or school is maintaining a clean and sanitary environment. But having a class of multiple children can leave little time for cleanup. However, unlike other, less porous flooring options, artificial grass for playgrounds makes for a fast cleaning experience. Simple spills can be easily wiped up, eliminating the risk of falls and allowing instructors to focus their time on the children.
About EchoPlay Underpadding and Your Playground Turf
Synthetic playground turf with our EchoPlay under pad meets safety requirements and will help mitigate serious injuries. We offer a 1" EchoPlay, which provides a 6' fall rating, or a thicker 2" EchoPlay, which offers a 12' fall rating. This underpadding is also highly drainable. We also offer our Echo Custom grass with a foam underlay that can be customized for various playground uses.
Why Choose Artificial Grass for Playgrounds & Daycares?
Customizable: artificial grass for playgrounds and daycares doesn't have to be boring. With Echoing Green, you choose from colours other than green, or mix and match with varying patterns, shapes, lengths, and designs for a fun and attractive environment that keeps your classes interested.
Cost-Effective: Artificial grass in Toronto is a cost-effective investment that lasts for many years. Unlike natural grass, artificial grass for playgrounds requires no additional maintenance staff or equipment to keep it performing at its peak for many years. At Echoing Green, all of our grasses are backed by a ten-year warranty.
Durability: Kids can throw a lot of their environment, and turf is no exception. Whether it's tugging, pulling, or kicking, our playground turf is designed to be tough and resist the wear and tear of regular use.
Non-Toxic: There are no harsh chemicals used in the production of playground turf from Echoing Green. All treatments are non-toxic, ensuring safe use by people of all ages. Additionally, artificial grass for playgrounds is installed with advanced infill equipped with Microban technology to intercept the growth of bacteria, mold, or mildew and prevent related illness.
Installing Artificial Grass for Playgrounds
Need help building an artificial grass playground? The team at Echoing Green is happy to provide artificial grass installation services for commercial and residential applications. Our team of expert turf installers will ensure that turf is installed to your specifications and fastened securely for longevity.
If you have any questions or need guidance on the right turf for your property, contact our team of specialists for a consultation.
Get started on your custom playground turf order with Echoing Green.
Recommended Schools and Daycares Products
See why more people are considering synthetic turf for playgrounds and daycares:
Minimal maintenance
No pooling
Great in treed areas where grass won't grow
No more grass stains
No more mud
Toxin free
No more muddy shoes
Softer play area
Great for rough play
No more bald patches or yellow grass
No discoloration or fading
Safe for everyone including pets
Free of harmful pesticides, fertilizers, or chemicals
Great in high-traffic areas where real grass my appear sparse or thin
Does not require watering
Why Choose Echoing Green
At Echoing Green, we offer nothing less than excellence for all your residential and commercial grass needs. Our unique artificial grass exceeds industry standards. When you replace sod with artificial grass from Echoing Green, you're upgrading to lush, beautiful, long-lasting grass.
Design

Design a custom layout tailored to showcase your space. At Echoing Green, we help you tailor your artificial grass to fit the parameters of your space and enhance its aesthetic.

Quality

We prioritize quality. Our artificial grass is engineered to outperform competitors and is sourced from premium manufacturers in Spain and Holland who distribute the high-grade product exclusively worldwide. Echoing Green is the sole Canadian distributor of this premium synthetic grass.

Customization

If you want to spice up your synthetic turf application, then Echoing Green is still the choice for you. We offer premium customizations like colour, cut, and branding.

Full Service

Our team of industry experts is happy and equipped to support and guide you through your entire artificial grass journey. From consultations, design work, layout to the product, and installation, Echoing Green ensures excellence in every step.

Performance

Our uniquely designed turf is built to facilitate superior drainage so bacteria, dirt, dust, and other contaminants won't linger on the surface of your artificial lawn. It's also designed for colorfast protection to avoid damage from the sun's UV Rays and prevent overheating on hot days.

Experience

We have over 20 years of experience in the artificial grass industry under our belt. From manufacturing and design to installation, we pride ourselves in mastering our craft and providing our customers with a product that exceeds the standards of durability, longevity, and visual appeal.
Contact Echoing Green Today to Apply Our Premium Artificial Grass to Your Space.