Upgrade Your Flooring with Turf for Gyms
Working out isn't the same as it used to be; gyms are dynamic environments where many different types of activities are taking place. Gym turf flooring is an innovative way to enhance the experience of your patrons with countless benefits that make your facility stand out from the rest. Turf for gyms from Echoing Green is designed for high-intensity performance and low maintenance that your team and your customers will all love.
Why Gym Turf Flooring is the Right Option: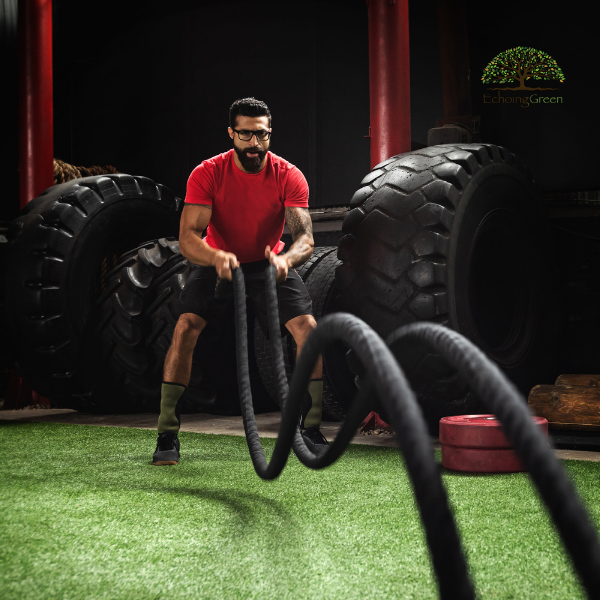 When free weights are being lifted into the air and dropped on the ground, and people are jumping, running, kicking, and sometimes even falling, the right flooring is essential for the longevity of your property and the well-being of your customers. Artificial turf for gyms offers protection for both concerns.
Shock Absorption: First and foremost, your priority is safety at the gym. Synthetic gym turf flooring from Echoing Green is installed with EchoPlay, an underpadding that offers fall protection that softens the blows of trips and slips. At the same time, the padding enhances shock absorption, so during intense workouts loaded with jumping and running, patrons can minimize strain and pressure on their joints.
Minimal Wear & Tear: The friction of runners, skipping ropes, medicine balls, weights, and all the other equipment in a gym against traditional rubber flooring can quickly wear away at the surface, reducing protection, thickness, and the aesthetic of the surface. Artificial turf for gyms from Echoing Green is designed for durability, high-quality infill and short, neat fibers engineered for high activity spaces, preventing a decline in performance for long-lasting results.
Simple Sanitation: Sweat, shoes, and floor workouts in a communal space make sanitizing a priority for gyms. With artificial gym turf flooring, sanitization is quick and easy. Our vinyl-coated silica infill used at the point of installation is equipped with antimicrobial technology that fends off pesky contaminants and prevents odours. Employees can also use our non-toxic artificial grass disinfectant, AquaKlor, to spray gym turf to eliminate pathogens such as bacteria and viruses that have collected throughout the day.
Customize Your Gym Turf: At Echoing Green, we don't limit you to just one option. While we have beautiful, vibrant green lush grasses to choose from, you can customize the look of your turf to suit your style. Choose from an array of colours, patterns, and shapes. You can even brand your logo on your turf! If you have a unique idea, call an artificial grass expert at Echoing Green, and we'll help you make your vision a reality.
Why Choose Echoing Green?
Echoing Green is a customer-oriented artificial grass supplier and installation service in Canada. We offer innovative artificial grass solutions for gyms that saves you time and resources.
We are the sole Canadian supplier of luxury artificial grasses designed, engineered, and manufactured in state-of-the-art facilities in Europe. In addition to supplying a selection of high-quality grasses, we offer artificial grass installation services to ensure you get the best experience from your gym turf for the entirety of its long lifespan.
Have questions about gym turf flooring?