Is Artificial Grass Pet Friendly?
Unlike natural grasses covered in pesticides and herbicides, artificial grass in Toronto provides a safe and comfortable environment for your pets. Pet turf is durable and lasts for years with low-maintenance duties that are easy to upkeep. Echoing Green's synthetic grass is installed with a bacteria-resistant infill that prevents odours, stains, and bacteria that causes mold from infiltrating.
A common myth regarding artificial grass is that it stains or gets damaged from dog urine or feces. When your pet uses the washroom, you can easily pick it up and clean it. Simply rinse or apply AquaKlor to the surface to quickly remove contaminants while maintaining safe, luscious green grass. Along with the many benefits of turf that keep your pet safe, the turf is protected from your pets. Forget patching up grass and dirt after pet playtime, and enjoy quality grass hassle-free.
Benefits of Installing Pet Turf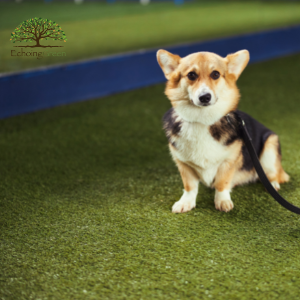 When dogs are on the grass, they are continuously sniffing, which causes concern about fertilizers and pesticides sprayed on the grass. When dogs come into contact with these harmful chemicals, it can make them really sick. If you want to protect your pets, installing artificial turf in Toronto is your best bet.
Keep your pets safe from pesticides & herbicides
Safe place for your pets to play
Durable turf
Easy drainage
And much more!
Artificial Grass for Dogs From Echoing Green
Echoing Green is your top choice for artificial grass installation in Toronto
With high-quality European turf, affordable prices, and amazing customer service, you can count on Echoing Green to provide you with beautiful, long-lasting turf. Forget waiting for your fertilized grass to be ready to play on, and allow the experts at Echoing Green to install artificial turf that will leave you loving your lawn even more.