What is the Best Artificial Grass for Dogs?
Artificial grass for dogs is a great choice, especially when compared to natural grass. At Echoing Green, the perfect artificial grass in Toronto for your pets is Echo60. This ideal pet turf is designed to withstand daily use by even the most robust dogs while delivering beautiful landscaping.
Where to Install Artificial Grass for Dogs?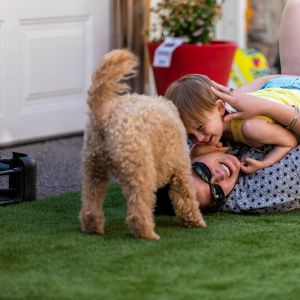 Artificial grass for dogs can be used virtually anywhere. If you're looking for a potty pad for your pet, Echo60 can be installed indoors on various flooring. If you have a balcony, you can create a pet-friendly zone by installing artificial grass on top of the outdoor concrete slabs. Artificial grass for dogs can also be used outdoors in a specific area to create a particular spot just for your pup, or it can be used for all of your outdoor landscaping needs.
Characteristics of the Best Artificial Grass for Dogs
Your pet is just another loved member of your family, so when you invest in products for them, you must be confident that they will be a safe choice. Our selection of artificial grass at Echoing Green is all non-toxic and free of harmful chemicals that could harm your dog. The TºCool infill used for artificial grass installation is also equipped with BacShield technology that keeps potentially hazardous bacteria out of your landscaping. The combination of advanced TºCool infill technology and UV protection keeps the surface of your artificial grass cool even on the hottest days protecting your pup's vulnerable paws from burns while they play.
To learn more about artificial grass for dogs, contact Echoing Green.