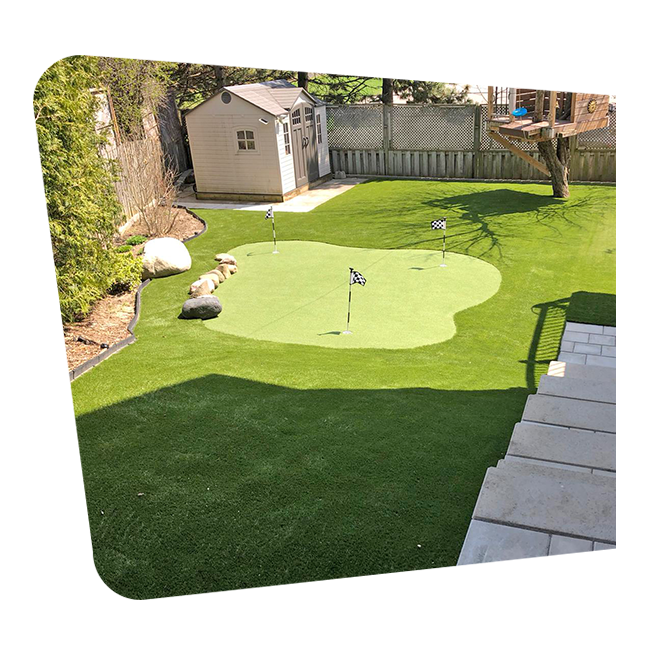 Imagine Stepping onto Your Own Customized Backyard Putting Green!
Beginner or pro, bring the game you love to the comfort of your home with custom artificial grass putting greens. From design to installation, and performance, Echoing Green builds backyard and indoor putting greens with high-performance Echo Pro Putt turf that feels, moves, and plays like real putting green turf, fit for the leisurely golfer, at-home mini putt or even the professional in the making.
A home putting green gives golf-lovers access to the game without having to schedule tee times or long drives to practice ranges. An indoor putting green is a year-round investment that increases functionality and enables more fun.
Why Choose an Artificial Grass Putting Green for Your Home?
Transform your home with the style and functionality of a residential putting green that can be installed indoors or outdoors: cups and flaps included!
Superior Performance: Echo Pro Putt is an exclusive artificial grass in Toronto, engineered specifically for golf green performance, mimicking the ball roll, bends, and breaks of professional golf courses. Practice on your backyard putting green and sink the putt when you're on the course.
Cost Savings & Convenience: Avid golfers pay daily fees to visit practice greens and driving ranges to strengthen their short game, and when winter rolls around, those facilities close. With artificial grass putting greens, you can practice all year round without the cost of entry.
Customizable: From size and shape to topography, fringe, and hole locations, choose a putting green that works for you with custom putting design services from Echoing Green. We will tailor the architecture of the green to look and play the way you want.
Lifespan: Putting green turf is UV protected and designed in state of the art facilities to maintain its performance and vibrance for years. The resilient turf withstands seasonal weather changes and daily practice strokes without creating divots, falling flat, or becoming dull. Echo Pro Putt is also backed by a 10 year warranty.
Low-Maintenance: Don't lose time on backyard or indoor putting green maintenance. Artificial grass is virtually maintenance-free, staying green and lush without any regular treatments, mowing, or watering. Not only do you save on the costs of water bills and chemical treatments, you can free up more time on your schedule for putting.
Mess-Free: Perfect for entertaining, cleaning an artificial grass putting green is easy and fast. Advanced infill keeps contaminants out of your putting green turf and durable synthetic fibres are easy cleanings with a simple rinse.
How to Customize Your Putting Green
Putting green turf can be customized in many ways to fit any lawn or backyard in the city. At Echoing Green, we can build you a backyard or indoor putting green using superior artificial turf in Toronto to suit the parameters of your yard or create the challenge you want.
At Echoing Green, we offer two types of premium putting green turf (Echo Pro Putt & Echo Pro Putt 70). Both of which, you have the option to customize, choosing from various colours, cuts, hole locations, shapes, and designs.
Personalize bends and breaks in the turf, or strategically incorporate tee-boxes to your liking or install longer grass around the perimeter to mimic the rough of a professional course.
Build a Personal Putting Green that's Truly Unique
Benefits of a Backyard Putting Green
A custom-built backyard putting green is a great way to enjoy the game of golf in the comfort of your own home. The convenience gives you access to the game you love around the clock, without having to schedule a tee time or travel back and forth between practice ranges.Whether you're a leisurely golfer or a professional in the making, you deserve turf that moves, feels, and plays like the real deal.
Not only can you simply step outside to your customized backyard putting green with sufficient durability and ball roll capabilities so that you get the best play possible.The luxury of premium European-made turf enhances the aesthetic appeal of your backyard while minimizing your maintenance efforts and costs. Backed by a 10-year warranty, the Echoing Green Pro Putt Turf is long-lasting, has superior drainage, and is made for year-round fun.
Putting Green Turf Installation
We don't just design your dream putting green, we build it too. Get professional installation of your custom putting green with Echoing Green. Experts at outdoor and indoor putting green turf installations, our team will ensure your putting green is installed securely and cohesively in your home, so you can enjoy it for many years to come. At Echoing Green putting green turf installation is not complete without accessories, so we include hole cups and flags with Echoing Green artificial grass putting greens.
Contact us to start Customizing Your Home Putting Green Today!
Recommended Putting Greens Products
Why Choose Echoing Green
At Echoing Green, we offer nothing less than excellence for all your residential and commercial grass needs. Our unique artificial grass exceeds industry standards. When you replace sod with artificial grass from Echoing Green, you're upgrading to lush, beautiful, long-lasting grass.
Design

Design a custom layout tailored to showcase your space. At Echoing Green, we help you tailor your artificial grass to fit the parameters of your space and enhance its aesthetic.

Quality

We prioritize quality. Our artificial grass is engineered to outperform competitors and is sourced from premium manufacturers in Spain and Holland who distribute the high-grade product exclusively worldwide. Echoing Green is the sole Canadian distributor of this premium synthetic grass.

Customization

If you want to spice up your synthetic turf application, then Echoing Green is still the choice for you. We offer premium customizations like colour, cut, and branding.

Full Service

Our team of industry experts is happy and equipped to support and guide you through your entire artificial grass journey. From consultations, design work, layout to the product, and installation, Echoing Green ensures excellence in every step.

Performance

Our uniquely designed turf is built to facilitate superior drainage so bacteria, dirt, dust, and other contaminants won't linger on the surface of your artificial lawn. It's also designed for colorfast protection to avoid damage from the sun's UV Rays and prevent overheating on hot days.

Experience

We have over 20 years of experience in the artificial grass industry under our belt. From manufacturing and design to installation, we pride ourselves in mastering our craft and providing our customers with a product that exceeds the standards of durability, longevity, and visual appeal.
Contact Echoing Green Today to Apply Our Premium Artificial Grass to Your Space.
Learn More About Putting Green Turf in Toronto & Surrounding Areas