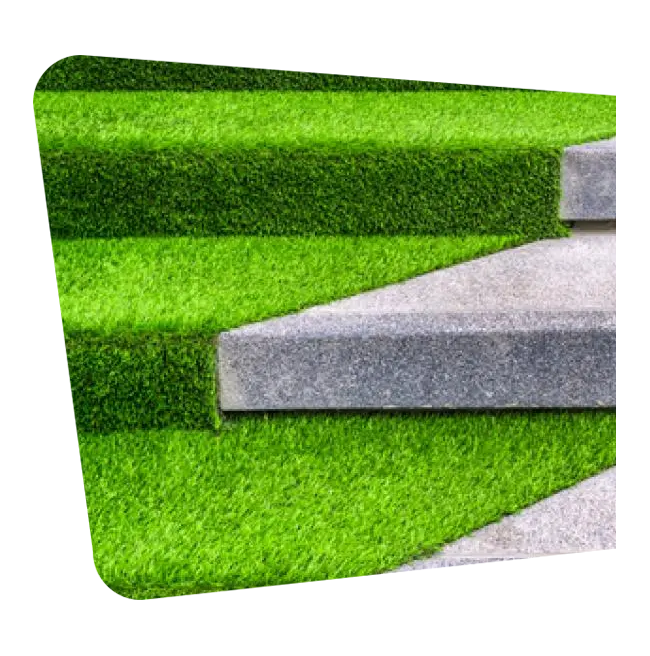 Customize Your Artificial Grass Application
For indoor and outdoor artificial turf Echoing Green can customize any space you want with your favourite logos or emblems in your favourite colours and to your own specifications. At Echoing Green, custom artificial turf is so much more than just grass!
Whether you are a landscape supply store or a landscape architectural firm or even if your business has nothing to do with landscaping at all. Echoing Green can provide you with an extensive array of products tailored specifically for your business! Unique tufting technology enables us to create custom made designs and logos that can be applied in many areas such as advertising, branding and interior design.
All Echoing Green products are tufted with UV-resistant yarns so that patterns and colours do not wear out or fade over time.
Your designs can measure up to 13' x 130' in a single piece. Boasting a variety of 16 colours, you are never out of options. You can combine up to 6 colours in the same design.
Playgrounds: Echo custom is also available with a unique foam layer, allowing you to walk with extreme comfort. The foam finish can either be 6 mm or 12 mm thick, depending on your specific needs. The 12 mm certified foam finish complies with safety regulations, making it suitable for playground areas, daycares, kindergartens and more. Hopscotch, Land-sea-air and many more games can be created to be used both indoors and outdoors.
Marketing: Whether you are looking to design welcome mats with your company logo as marketing material, hang your logo on the wall or even if you are looking to cover your showroom floor with a specific design- we can do it. Our flexibility in both the size of the mat as well as the variety of colors guarantees that if you design it we can make it.
Gyms: Lighten up your free weights area with a custom designed mat! Push the weighted sled on a specially designed mat so you can track your distance. The mats are built for heavy duty use and are designed specifically to withstand the foot traffic and the weight.
Sports Fields: Looking to have your team emblem on your artificial field? Echoing Greens indoor and outdoor custom artificial sports turf is the same high quality as our landscape grasses and installed by our same professional installation crews. As with our residential grasses, our sports grasses require little maintenance and are free of fertilizers, weed killers, and pesticides.

Custom Artificial Turf is Great for:
Schools
Play Areas
Indoor and Outdoor Football Fields
Indoor and Outdoor Soccer Fields
Jungle Gyms
Climbing Apparatus
Recreation Areas
Batting and Cricket Cages
Multi-Purpose Play Areas
Swimming Pools
Recommended Custom Grass Products
Why Choose Echoing Green
At Echoing Green, we offer nothing less than excellence for all your residential and commercial grass needs. Our unique artificial grass exceeds industry standards. When you replace sod with artificial grass from Echoing Green, you're upgrading to lush, beautiful, long-lasting grass.
Design

Design a custom layout tailored to showcase your space. At Echoing Green, we help you tailor your artificial grass to fit the parameters of your space and enhance its aesthetic.

Quality

We prioritize quality. Our artificial grass is engineered to outperform competitors and is sourced from premium manufacturers in Spain and Holland who distribute the high-grade product exclusively worldwide. Echoing Green is the sole Canadian distributor of this premium synthetic grass.

Customization

If you want to spice up your synthetic turf application, then Echoing Green is still the choice for you. We offer premium customizations like colour, cut, and branding.

Full Service

Our team of industry experts is happy and equipped to support and guide you through your entire artificial grass journey. From consultations, design work, layout to the product, and installation, Echoing Green ensures excellence in every step.

Performance

Our uniquely designed turf is built to facilitate superior drainage so bacteria, dirt, dust, and other contaminants won't linger on the surface of your artificial lawn. It's also designed for colorfast protection to avoid damage from the sun's UV Rays and prevent overheating on hot days.

Experience

We have over 20 years of experience in the artificial grass industry under our belt. From manufacturing and design to installation, we pride ourselves in mastering our craft and providing our customers with a product that exceeds the standards of durability, longevity, and visual appeal.
Contact Echoing Green Today to Apply Our Premium Artificial Grass to Your Space.