How is Artificial Grass Installed?
Artificial grass in Toronto is installed via a multi-step process.
Preparing for Artificial Grass Installation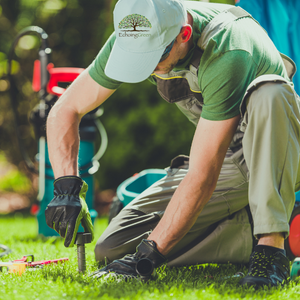 Before installing artificial grass Toronto, the existing yard in the area must be excavated about 10cm or 4 inches. During this step, all furniture, rocks, bricks or landscaping materials in the way must be cleared to make way for the new turf. Then to enhance the weed-resistant properties of artificial grass in Toronto, a weed barrier is laid and shaped to fit the installation area. Next, artificial turf installation crews will create a base with compacted high-performance bedding or a similar crushed aggregate.
Laying & Securing Artificial Turf
Following the creation of the base, artificial grass in Toronto must be laid and secured. The intricate installation process helps fortify the resilience and security of the artificial turf. During this stage, artificial turf is rolled out and trimmed to fit the shape of the installation area, where it is then glued for a seamless connection and fastened to the ground with galvanized spikes. Once left to set for at least half an hour, the surface of the new landscaping turf will be cohesive.
Enhancing with Infill
The third step of artificial grass installation is centred around the infill. At this point, the fibres of the turf are brushed upwards, and then the infill is distributed evenly across the surface. After which, the grass fibres are brushed in the opposite direction, lifting the fibres and leaving the artificial turf looking more lively.
Artificial Grass Installation with Echoing Green
As artificial grass leaders in Canada, Echoing Green not only uses luxury European turf and high-quality Envirofill infill. Our team offers top-tier installation services for various project types and applications. Get the most out of your artificial grass landscaping with Echoing Green.