Enhance Your Swimming Pool Experience with Artificial Grass Toronto
Innovative landscaping and installing artificial grass around your pool minimizes water contaminants and simplifies maintenance for your swimming pool and artificial grass lawn. Say goodbye to hot patio stones or splintering wooden decks when you switch to comfortable and lush landscaping with expert artificial grass installation in Toronto.
Why Install Artificial Grass Around Your Pool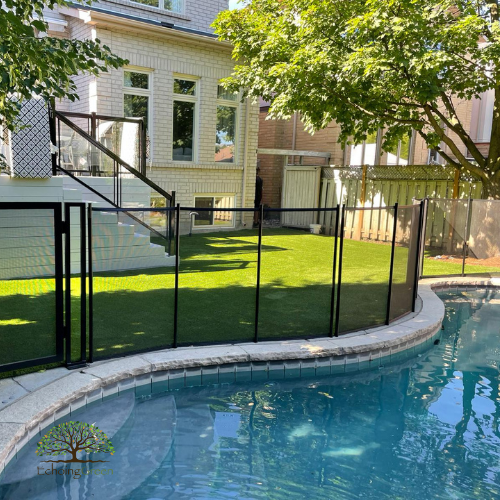 Luxury artificial grass from Echoing Green offers swimming pool owners many benefits to make outdoor living more enjoyable.
No Overheating: Stones or pavement around swimming pools heat up quickly as they absorb energy when exposed to the sun, making it difficult to comfortably walk to and from your swimming pool barefoot.
Artificial grass in Toronto from Echoing Green offers advanced UV protection to reflect away harsh sunlight stopping the surface from overheating even on long summer days leaving artificial turf cool and comfortable - shoes or not.
Salt Water & Chlorine Tolerant: In-pool splashing easily displaces pool water on the nearby natural grass, which, when paired with sunlight, causes unsightly burnt and dead patches around your lawn, which are difficult to manage or prevent.
When you opt for artificial grass around your pool, you won't have to worry about losing the lushness of your landscaping to chlorine or saltwater. Artificial grass in Toronto is better resilient to the fading effects of these chemicals.
Drainage: Poor backyard grass drainage is standard around the Greater Toronto Area and elsewhere in Canada. So, natural grass often becomes oversaturated and muddy when there is excess water due to storms or pool water spillage.
Artificial grass in Toronto enables a mud-free environment around the swimming pool. Echoing Green's luxury European turf is engineered strategically to allow sufficient water drainage. Even when there is an excess of splashing or rain, the water flows efficiently away from the surface, saving swimmers and your pool from getting muddy.
Spend Time Enjoying Your Backyard, Not Maintaining It
The only summertime activity as frustrating as lawn maintenance is swimming pool maintenance. By installing artificial grass around pools, you can simplify both, saving you time and money that you can use to transform your backyard into an oasis instead.
When installing artificial grass in Toronto around your pool, you will no longer have to mow, water, fertilize, irrigate, aerate, or weed your landscaping.
Keep Your Lawn & Swimming Pool Free Of:
Grass Clippings
Mold & Mildew
Bacteria
Mosquitoes, Fleas & Other Insects
Why Homeowners Love Artificial Grass in Toronto
No two pool owners are precisely the same, but residential artificial turf offers benefits that enhance the lives of homeowners around the city.
Non-Toxic
Kid-Friendly
Shock Absorbent
Pet-Friendly
Long-Lasting & Durable
Build a Backyard You Love with Echoing Green
Transform your home with residential artificial grass in Toronto. You can choose the perfect length, colour, and density for your turf, and with expert artificial grass installation from Echoing Green, have the lawn of your dreams in no time. Choose from custom options from unique applications, colours, designs, and patterns; echoing Green has you covered.
With high-quality European-made products, trusted workmanship, and years of experience, our team of experts offers the best artificial grass experience.