Residential Artificial Grass for Landscaping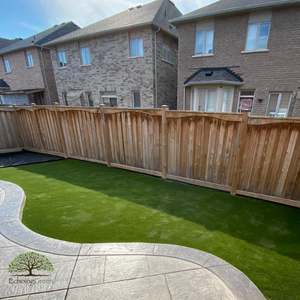 Natural grass lawn care is tedious, time-consuming, and costly. To perfect the look and performance of natural landscaping turf, homeowners need a significant amount of resources and a little bit of luck. Switching to artificial grass landscaping enables homeowners to escape the frustrating cycles of watering, mowing, and weed removal in favour of longevity, lush, and vibrant landscaping.
How You Can Transform Your Landscaping with Artificial Grass
Swimming Pools: Artificial grass is perfect for poolscaping. Engineered with a highly permeable design, landscaping turf from Echoing Green allows water to drain efficiently, minimizing poolside slips and falls. The UV-resistant turf also protects the flooring from heating up when exposed to the sun, keeping barefoot swimmers from burning their feet on their way to and from the pool.
Balconies & Decks: Artificial grass installation for alternative surfaces like concrete balconies and wooden decks is easy, especially when done by experienced professionals. By installing artificial grass to hardscaping, homeowners can enhance backyards, patios, and balconies with hassle-free greenspace.
Lawns & Yards: For some homeowners, simple landscaping turf is best. By replacing your natural lawn or backyard turf with artificial grass, you can enjoy need, weed-free, and well-manicured for over 15 years.
Pathways: Artificial grass stands up to heavy foot traffic, making it perfect for pathways, doormats, and entryways in your yard. High-density fibers and resilient turf ensure that landscaping turf installations resist wear and tear or performance declines even in areas with high foot traffic.
Walls & Stairs: While artificial grass is considered an alternative to natural grass flooring, the revolutionary turf from Echoing Green is inherently versatile. Homeowners can extend their artificial grass installation to cover walls and stairs for a pop of colour and creativity.
Putting Greens: Echoing Green specializes in custom artificial grass putting greens. You can transform your backyard with a unique golf green that increases the functionality and "wow" factor of your backyard landscaping. Using high-quality putting green turf, your backyard putting green will be highly durable and offer an incredible ball roll.
Benefits of Artificial Grass Landscaping
Artificial grass is a versatile choice that frees homeowners from the time, labour, and cost constraints of natural grass landscaping. By opting for artificial grass for landscaping, homeowners choose a sustainable turf option that requires no watering, mowing, fertilization, aeration or other additional treatments.
Landscaping Turf Installation Services
If you think artificial grass landscaping is the right choice for you, reach out to Echoing Green for artificial grass installation services in the Greater Toronto Area. Our team of installation specialists always provides high-quality workmanship to ensure complete and long-lasting landscaping turf.
Choosing Echoing Green
Echoing Green is a leading and trusted artificial grass supplier in the Toronto area. In addition to being an exclusive supplier of revolutionary European-made artificial turf, we provide residential turf guaranteeing a high level of customer service throughout. To get started with artificial grass for your landscaping needs, the Echoing Green will answer all your questions and guide you through our entire selection of landscaping grasses.
Schedule an expert consultation today!