Pet Turf & Artificial Grass
Artificial grass for dogs and cats, kennels and dog runs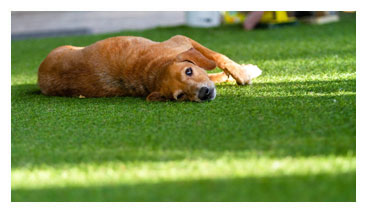 Dog owners are, what we like to think, a special breed. We understand and share that special kind of love of our furry friends be it a cat or a dog, we can all agree that they are an important part of our lives. Statistics have shown that people that have pets live longer on average than those that don't. Our furry companions have a calming influence on us and reduce blood pressure - reducing the risk of a heart attack. When we sell a Pet Turf lawn to a pet owner we know that it's not just about aesthetically pleasing, easy to maintain the lawn. We also know that it's important to that pet owner that we're offering them a safe, durable, worry-free area for their pet.
That's why with Echoing Green's Pet turf you don't need to make a compromise between a beautiful looking lawn and a happy pet. Our Pet Turf provides both.
Who Uses Pet Turf?
We know that both cats and dogs love to stretch out and relax on the grass as much as they love to play and roll around in it so it's important that our artificial grass for dogs and cats feel as close to natural grass as possible. Our Pet Turf has an added appeal in that it has a soft cushioned feel, is devoid of any toxic materials and is strong enough for dog play. Our Artificial turf is also a great option for Doggy Day Cares, Dog Runs and Kennels. It's low maintenance, tough, long-lasting and our polyurethane (PU) backing provides optimal drainage. For those relentless 'digger dogs' we can ensure that the edges of artificial grass for dogs are secured tightly with more stakes around the perimeter.
Why are Pet Owners Like You Turning to Artificial Grass?
Pet turf is increasing in popularity for pet owners across the city. Not only is our pet turf durable, weather-resistant, and long-lasting, it can also be flexibly installed across different surfaces, customized to different shapes and sizes to best suit your unique living space.
Benefits of Artificial Pet Turf
Installing artificial grass for dogs and cats offers various benefits to you, your pets, and your outdoor space. Premium artificial grass from Echoing Green is just one more way you can show your pets you love them.
Non-Toxic
No harsh chemicals are used to manufacture our premium artificial grass, making our pet turf safe for play. Because synthetic pet turf stays lush, green, and weed-free all year round, there is no need for chemical treatments such as fertilizers, herbicides, or pesticides to your maintenance regimen that could harm pets.
No Staining
Yellow patches from frequent urination will be a thing of the past. Your dog's urine or feces will not harm the artificial grass, and our TCool Infill and 'school board approved' Envirofill Infill will eliminate stains, odours and bacteria growth.
No Fleas & Insects
Fleas are more than a pest for dogs and cats. They're parasites that can be frustrating and cause illness to your pets and loved ones. Because there is no topsoil or other organic material necessary for your artificial grass installation, designated pet turf is insect-resistance minimizing the potential for infestations that affect your dogs and cats.
Durability
At Echoing Green, our turf is manufactured and installed to maximize durability. After years of use, our premium pet turf withstands rough play, high traffic, daily use. When your pets are rolling around or playing with their other four-legged friends, pet turf is designed to persist regular use without enduring wear and tear.
No Digging
Your pet may try to, but with artificial grass for dogs and cats, there will be no more digging holes in the lawn. Unlike natural grass, there is no topsoil or organic material for pets to excavate, so your artificial grass lawn will easily stay pristine. Pet turf is resilient to rough dog play, digging and running. No more having to replace dug-up areas with strips of sod and no more muddy paw tracks through the house.
Drainage
Our pet turf is specially made to the highest quality standards to facilitate water drainage. Superior drainage technology prevents the build-up of bacteria and mold from accumulating on your artificial turf. So, you can easily wash pet turf of any unwanted remnants with a simple rinse.
Install Pet Turf Anywhere
Artificial grass for dogs and cats can be installed for any type of property on various smooth, flat surfaces. Many pet owners in the city live in condos or multi-family homes with not much outside space. Artificial pet turf can be installed on concrete balconies and patios in addition to backyard lawns, so you won't ever have to compromise for your beloved pet.
Why Choose Echoing Green for Your Pet Turf
When you install premium artificial turf, you will enjoy the seamless look of natural grass while your pets will revel in the sensation of lush natural grass in their pet turf. Artificial grass in Toronto requires minimal upkeep, saving the costs, time, and energy used caring for your lawn that you can spend on your pet instead.
At Echoing Green, we deliver a high-end product at an affordable price. Our premium pet turf is manufactured according to high European standards and installed by a team of experienced professionals who offer high-quality workmanship.
Contact Echoing Green to Get Exclusive, High Quality Pet Turf for Your Pets Today!
Learn more about Pet Turf: