How to Build a Backyard Putting Green?
A backyard putting green is a great addition to your home, especially if you're a golf lover or someone who loves to engage in some friendly competition. With high-performance luxury artificial grass in Toronto from Echoing Green, creating a custom putting green for your backyard is not just a dream, you can make it a reality. For the best artificial grass installation and putting green design, it's recommended that you leverage the expert design and install services from the experienced specialists at Echoing Green. Our teams will ensure your putting green is built to last for years.
What's Involved in Building an Artificial Grass Green?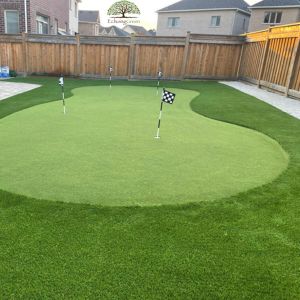 The two most important factors for artificial grass installation when it comes to backyard putting greens is the artificial grass and the infill. At Echoing Green, we offer two high-quality artificial grasses for putting green. Each has short dense fibres that facilitate ball roll for smooth and accurate putting. Infill is responsible for securing the base of the putting green turf and creating ballast. During artificial grass installation, Echoing Green evenly distributes the advanced TºCool infill throughout the putting green turf which not only keeps fibres upright but also keeps contaminants out of your lawn.
How to Customize Your Putting Green?
With Echoing Green, your artificial grass isn't just a one-size-fits-all solution. We provide custom-designed putting greens including the shape, size, and topography of your putting green, based on how challenging you want your green to play. You can also choose multiple hole locations to keep things interesting as you play.
If you're thinking about building your own backyard putting green, contact the experts at Echoing Green.