How Do You Maintain Artificial Grass on Balconies?
Artificial grass for balconies requires minimal upkeep and cleaning to help maintain its longevity, lushness, and functionality. Synthetic turf from Echoing Green is highly durable and long-lasting but will benefit from occasional cleaning to eliminate debris and contaminants to maintain its integrity.
Artificial grass for balconies is growing in popularity as more people move into condos; it's a great way to bring greenery a little closer to home. Synthetic turf is a low-maintenance product, but with a few maintenance and cleaning measures, it can drastically increase its lifespan and keep it looking great over the long term.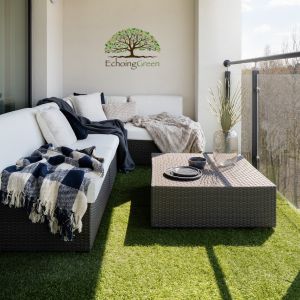 When you book a maintenance service with Echoing Green, our team will ensure your grass is clean, sanitized, and looks great.
Guide to Artificial Grass Maintenance
Cleaning and Inspection: Removing debris, litter, and organic matter is a great way to keep your synthetic turn looking excellent. The team will also inspect the artificial grass for issues, such as lifted edges.
Decompact Grass: After a thorough cleaning, the team will remove impacted debris, organic matter, and other naturally-occurring blockages so that your drainage system functions optimally.
EchoFresh: EchoFresh is a solution used to disinfect the grass and remove odour-producing bacteria. It will leave your artificial grass on your balcony smelling like fresh-cut grass.
Infill Top-Up: As an upgrade to your maintenance service, you can opt to receive T°Cool infill; this premium infill keeps bacteria, mold, mildew and odours away while also increasing the longevity of your synthetic turf.
Echoing Green for Artificial Grass
Echoing Green is a leader in the artificial turf industry, offering luxurious European-made artificial grass for balconies, residences and putting greens.