How Long Do Backyard Putting Greens Last?
A high-quality backyard putting green lasts 10 to 20 years. Artificial grass in Toronto from Echoing Green offers a lengthy lifespan for property owners, and an increase in longevity can be achieved with timely turf cleaning and maintenance. Not all synthetic turf for backyards is of the same quality. Echoing Green offers a European-made, luxurious, durable putting green turf engineered in specialty facilities in Spain and Holland.
The Echoing Green Artificial Grass Difference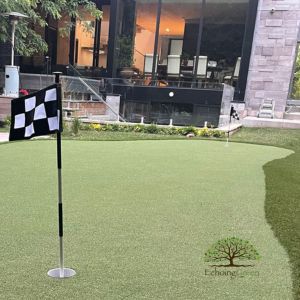 Despite constant strokes from pitching clubs and putters, artificial grass from Echoing Green is designed for long-term performance even in high-traffic and harsh conditions. Built with a leading polyurethane backing, you can count on your backyard putting green to withstand the harsh Canadian temperatures all year long without deteriorating like outdated latex backings. The superior backing also offers exceptional tuft lock, securing fibres in place to prevent displacement of individual or individual synthetic grass fibres.
Equipped with UV Protection and installed with premium TºCool infill, artificial grass in Toronto from Echoing Green used in putting green installations maintains cool and comfortable surface temperatures that preserves the colour and integrity of your backyard putting green.
Echoing Green for Long Last Backyard Putting Greens
Echoing Green stands by the quality of their artificial grass and warranty of all their products. Our turf for backyards is made with highly specific qualifications ensuring that it is long-lasting, durable and eco-friendly. When you choose Echoing Green for custom artificial grass putting greens, you can count on high-quality workmanship that keeps your golf green in play for decades.
If you would like to learn more, contact us now.