What Infill is Used for Artificial Grass Installation
At Echoing Green we always use silica sand infill for all synthetic grass installation in Toronto.
When it comes to installing artificial grass in Toronto, infill plays a large role in the performance and the longevity of the application. That's why we always use and supply high-quality infill.
Envirofill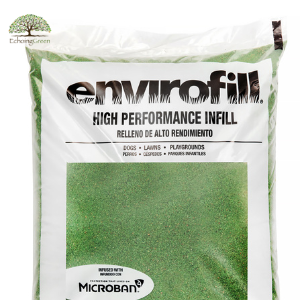 Envirofill is manufactured round sand that offers health and safety advantages for people, pets, and playgrounds; it is also school board approved. It contains antimicrobial protection, which helps to eliminate the bacteria growth, odours, and product deterioration. In addition, the edges are less sharp than regular sand, making it safer for children to play and easier for water to drain.
Silica Infill for Artificial Grass
Silica sand infill is a widely used, safe-to-use material when installing artificial grass. It is a high-quality infill that is well-draining, cooling, and antibacterial, which deters contaminants such as bacteria, mold, and mildew from infiltrating synthetic grass applications. Silica sand eliminates odours and prevents product deterioration - resulting in safer, long-lasting artificial grass by protecting nearby contaminants.
Why Choose Echoing Green Luxury Grass
The experts at Echoing Green can assist you in determining which type of infill is best for your artificial grass. We provide you with expertise in choosing the best infill that gives you the best performing synthetic turf on the market. To find out which type of infill is best suited to your artificial grass, contact the Echoing Green team.
Contact the professionals at Echoing Green to enjoy your luscious, high-quality artificial grass in Toronto today.