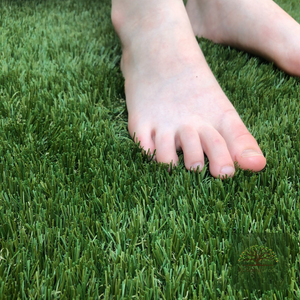 Why Artificial Grass in Toronto is Perfect for Kids
Synthetic turf in Toronto is great for every age group. However, when kids can't help but be kids, the properties, functionality, and design of playground turf from Echoing Green make life easier for everyone.
Easy to Clean: Engineered to wick water away, our artificial grass is made with permeable fibres and underlay that facilitates cleaning. Disinfectants can easily be applied and washed out when necessary in just a couple of minutes.
Non-Toxic: While artificial grass is treated for UV protection and colourfast performance, it is non-toxic and free of harmful chemicals often found in natural grass treatments. This allows kids of all ages to play safely and comfortably.
Shock Absorbent: Installed by the professionals at Echoing Green, artificial grass in Toronto is laid with advanced foam underlays that create paddings that help absorb the shock of slips and falls, preventing injuries during playtime.
Bacteria Resistant: Equipped with Microban technology as a result of high-performance TºCool Infill used during installation, our artificial grass applications are resistant to pest and bacteria infiltration that might make playground-goers sick.
High Traffic: High traffic turf is built engineered with dense fibres that enhance durability. This enables and maintains the look and functionality of synthetic turf even when day after day it is exposed to running, jumping, kicking, or whatever else kids might throw its way.
Low Maintenance: Take the time and resource investment into grass maintenance off your hands with self-maintaining turf. No watering, treatments, or mowing is required to keep artificial grass for playgrounds lush and functional.
Customizable: You don't have to stick to the status quo. With various colours in stock, you can choose unique designs and shapes to create a fun environment with artificial grass in Toronto that kids love.
Artificial Grass Installation from Echoing Green
Think Turf is Right for Your Playground?
The installation team at Echoing Green can help you revamp your indoor or outdoor playground in no time. With years of experience under our belt, advanced turf, and a commitment to customer service, you'll be able to transform your playground in no time. Our artificial turf installations are long-lasting and high-performing, so you can be confident that they will last for years, serving kids until adulthood.
Choose Echoing Green for Luxury Artificial Grass in Toronto
At Echoing Green, we only want the best for our customers. Artificial grass in Toronto is a cost-effective investment that saves property owners the cost of lawn care and annual landscaping over many years. When you choose our exclusive European turf for your commercial or backyard playground, you can be confident that you will get exceptional performance. See the return on investment for yourself.