Make an Impression with Artificial Grass for Your Storefront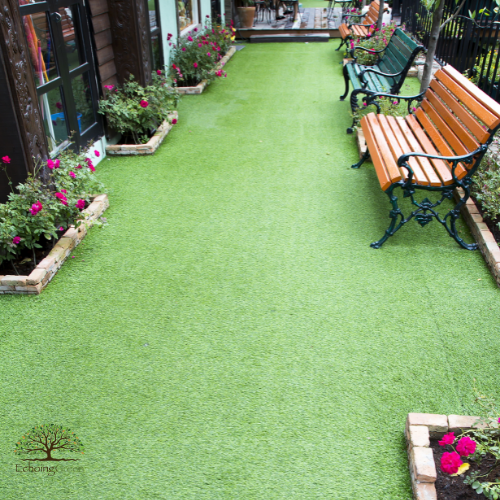 The look of your storefront and around your shop can play a huge role in enticing new customers and retaining existing customers. With artificial grass for retail stores, you can introduce highly quality, cost-effective, and low maintenance landscaping around the perimeter of your shop that enhances your store's appeal and brand image to keep people coming inside.
Get luxury artificial grass installation and landscaping services using exclusive European-made turf available only from Echoing Green and transform your storefront into beautiful and well-kept destined to stand out on any street.
Why Choose Artificial Grass for Retail Spaces
Create an Inviting Atmosphere: Artificial grass for retail spaces is vibrant and attractive, inviting passersby and encouraging return customers with stand out landscaping that keeps your storefront looking neat and welcoming.
Time Management with Artificial Grass: Unlike natural grass, your artificial grass landscaping needs any mowing, watering, fertilizing, or any other regular upkeep to maintain its luxurious appearance, leaving your team free of the time constraints and burden of cleaning up clippings or devoting excess time during their shift to lawn care. Instead, your staff can focus on serving customers and making sales, saving you the cost of extra hours.
Cost-Effective Solution: If you're committed to lush outdoor landscaping, to keep it up to standard store owners invest in lawn care services from weed removal to aeration and fertilization. Unfortunately, all of these services can rack up hefty monthly bills. With high quality, durable artificial grass for retail spaces from Echoing Green, you can be confident that your commercial turf will go the distance lasting for over a decade without declining in performance, so you won't have to worry about the cost of expensive maintenance services or turf replacement.
Allergen-Free Retail Turf: Pollen, bacteria, and mold can typically be found in natural grasses and gardens where water and weeds attract these contaminants and encourage them to breed and flourish. When you install artificial grass for your storefront or within your store, you can get the beautiful vibrance and texture of artificial grass without worrying about irritants and their effects on your customers or team.
Benefits of Custom Artificial Grass Inside Your Store
Retail artificial grass for storefronts and shops is more than just a replacement for natural grass landscaping. The versatility of artificial grass from Echoing Green enables you to get creative. Inherently flexible, both physically and functionally, custom artificial grass can be made in different colours, patterns, and shapes to transform the inside of your property. Synthetic can be used as door mats, signage, and even walkways throughout your store. With our advanced artificial grass and installation services, you are free to get creative and design a truly unique storefront and retail space.
Choosing Echoing Green for Your Shop
Artificial grass from Echoing Green is not quite like any other supplier on the market. Our selection of artificial grass for retail spaces are designed, engineered, and manufactured in state of the art facilities in Europe to ensure top tier performance and longevity. Our artificial grass installation services are rate 5-star and all of our grasses are backed by a 10 year guarantee.
Want to learn more about artificial grass for your store?