Simplify Turf for Your Yard with Artificial Grass
Natural grass has many vulnerabilities, even with the best intention, high-end treatments, and a tight schedule. Curating the perfect backyard or front lawn is challenging, requiring constant attention during the city's warmer seasons. With artificial grass for backyards and front lawns, you can clear your schedule and make time for enjoying your backyard and lawn and use your space for entertaining, lounging, soaking up the sun, or spending time with the people you care about most.
Why Choose Artificial Turf for Lawns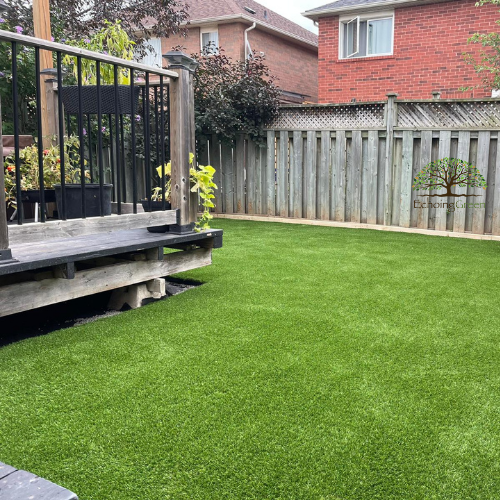 When you leave lawn maintenance in the past with artificial grass for bacyards, you can regain control of your time without giving up your perfect front lawn and backyard. Artificial grass from Echoing Green is high quality and renowned for its long-lasting vibrant colour and real-like sensation that allows homeowners across the city to enjoy the comfort and convenience of a healthy lawn without any of the tedious work.
Save Time: don't spend your summer evenings on lawn care; spend it enjoying the comforts of an always-ready yard.
Save Money: stop investing in lawn care services or treatments, put more money back in your pocket with a cost-effective, low-maintenance alternative.
Save Energy: at the end of your day, don't spend hours mowing, watering, or weeding; kick your feet up and relax.
How is Artificial Turf Different Than Natural Grass?
Weed-Free: Artificial grass installation includes an advanced weed barrier that prevents any weeds from penetrating the turf from the ground and stops weeds from quickly spreading or infesting your lawn.
Pest-Free: Overwatered lawns can attract fleas, mosquitoes, and other insects, causing the unwanted pests to nest swarm. Artificial turf for yards doesn't need any maintenance, so overwatering is essentially impossible, keeping fleas and mosquitoes out of your yard for good.
Durability: Even if you use your backyard every single day, durable artificial grass is designed to withstand daily use without loose fibres or a decline in performance.
Customize: Artificial grass is not one size fits all. For optimal results you can choose your density and length to match how you use your lawn and the look you want.
Weather Resistant: The health of natural grass fluctuates depending on the season and the weather conditions. Heavy rain, ice, snow, and even excess sun exposure, can cause lawns to wither. Artificial grass is designed to perform in all of these conditions, UV protection protects turf from the sun, and strategic engineering allows water to drain efficiently.
Family Friendly: artificial grass is suited for a healthy and safe backyard and front lawns perfect for every member of the family. Our turf is non-toxic, free of allergy-inducing pollen, and bacteria resistant. Perfect for everyone for kids, adults, and even pets to enjoy.
Artificial Grass Installation
Get the most out of your backyard and front lawn with artificial grass installation services from Echoing Green. Our team of artificial grass installation experts in Toronto uses best practices and advanced techniques to ensure that your new artificial lawn is secured effectively and seamlessly for a long-lasting lawn that looks and feels healthy.
Contact us today to learn more about artificial grass services from Echoing Green!