Why Choose UV Resistant Artificial Grass?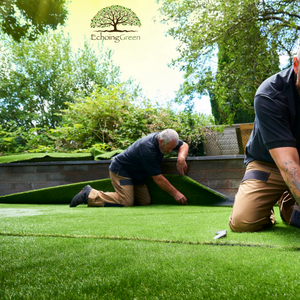 Despite being light-years away, ultraviolet rays emit incredibly powerful light heat. When objects outside are exposed to UV rays for an extended period of time or especially hot days, they can become damaged, overheating, fading, or even bleaching. By choosing artificial grass in Toronto equipped for UV exposure, you can be confident that your artificial grass installation will last many years without a decline in performance or appearance. UV stabilisers are added to both the yarns and lamination of our artificial grass during the production process, which will slow down the degradation process, extending the lifespan of your grass.
Overheating
Especially in the summer, inferior artificial grass in Toronto can quickly overheat when exposed to direct sunlight. This becomes a problem for kids, adults, and pets who make contact with the turf barefoot, with their hands, or with their paws. At Echoing Green, all of our grasses are treated to be UV-resistant, so you can comfortably and safely enjoy your turf.
Bleaching
Intense ultraviolet directed in one area can break down unprotected artificial colours and cause those materials to fade exponentially over time. But our European-made turf at Echoing Green locks colour in, effectively maintaining its vibrant colours beyond the duration of its lifespan, so your artificial grass installation looks lush, real, and healthy.
Degrading
In extreme cases where artificial grass is poorly manufactured, summer heat and light can cause the fibres and rubber backing of artificial grass in Toronto to break down. For the best performing artificial grass installations, Echoing Green supplies durable artificial grass in Toronto with advanced backings that withstand heat and daily use.
Learn more about artificial grass in Toronto from Echoing Green.