Does Synthetic Turf Get Hot in the Summer?
Like many other outdoor landscaping and hardscaping materials, exposure to heat and the sun can cause surface temperatures to rise. But, luxury artificial grass in Toronto from Echoing Green is engineered and designed to perform in hot summer conditions. Made with exceptional polyurethane backings and enhanced with UV (ultraviolet light) protection, our selection of European-made grasses can withstand the heat, so you can enjoy your outdoor artificial grass landscaping all summer long.
UV Protection & Synthetic Turf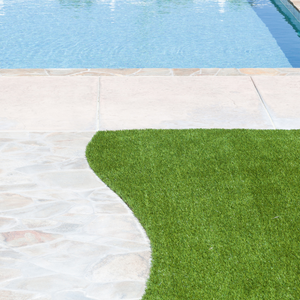 Synthetic turf from Echoing Green is equipped with UV Protection to protect the turf from heat and direct light from the sun's rays. UV protection prevents artificial grass from fading or colours from bleeding, maintaining the vibrancy of your turf. UV protection helps prevent synthetic turf from getting too hot by reflecting sunlight away. If you feel like your artificial grass landscaping is getting too hot, you can cool it down with a quick rinse.
Advanced Polyurethane Backing
At Echoing Green, our artificial grass is made with a polyurethane backing designed to perform in more extreme conditions and temperatures than traditional rubber backings without compromising its integrity. Polyurethane is known to withstand over 90ºC. In some cases, that limit is extended depending on how the material is engineered, enabling it to perform well even in hot Toronto summers.
The Best Artificial Grass for Landscaping in Toronto
Our entire selection of artificial grass at Echoing Green is designed to excel in outdoor applications, around swimming pools, on decks, and even on rooftops.

To learn more about the characteristics of luxury Echoing Green artificial grass, contact our team today.