How to Easily Maintain Backyard Putting Green Turf
One of the most significant benefits of an artificial turf putting green is their minimal maintenance requirements. Artificial grass does not require mowing, watering, fertilizers, pesticides or other chemicals to remain lush and functional. Even still, there are instances when your backyard green will need to be cared for to help preserve its pristine condition for as long as possible.
At Echoing Green, our artificial grass putting greens are designed to be weather resistant and durable for years. Nevertheless, we've put together a few tips to help maintain your lawn and extend the longevity of your backyard putting green.
Pick Up Debris
Leaves, trees, rocks, pet waste, and other debris that can fall or be blown onto your lawn should simply be picked up regularly. Sharp and heavy objects rolling around your backyard turf can increase wear and tear to your putting green turf.
Brush It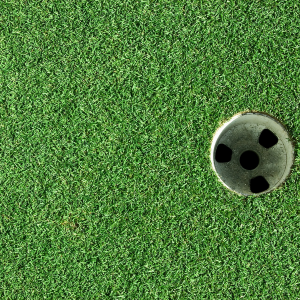 Either with a plastic rake, soft brush or a leaf blower brush through your putting green turf to remove any small debris and lift blades of grass for more fullness. It's best to avoid metal rakes or rough brushing as it can tear and damage the turf of your backyard putting green over repetitive use. If you have any mold or mildew on your turf's surface, it can easily be removed with a small brush.
At Echoing Green, we supply and install premium artificial grass that is expertly designed to facilitate drainage so mold, mildew, and bacteria won't spread in your turf.
Rinse It
If dirt, dust, and pollen regularly accumulate on your backyard putting green, it can be cleaned quickly and easily with a simple rinse. A regular wash of artificial grass will clear any smaller debris that can get stuck in your putting Green, especially after extended periods of not using it.
It's okay to powerwash your putting green but be sure to hold the nozzle of your washer at an angle so as not to displace infill and damage your putting green.
Perk Up Grass
If the backyard putting Green is beginning to look flat or is getting walked on frequently, a power broom or gentle raking can be used to lift up sagging blades of grass. When you select your artificial grass from Echoing Green, we use high-quality infill during your backyard turf installation to help maintain your grass's shape, volume, and durability.
Stain Removal
Stains on your putting green can be an eyesore that takes away from the visual appeal of a backyard golf green. Dabbing small quantities of rubbing alcohol onto hard-to-remove stains can return your putting green to its original beauty. Don't try rubbing alcohol until trying to scrub away stains with soap and water.
Sanitization
If there are pet or other animal droppings on your putting green, you eliminate bacteria and prevent odours by washing your artificial turf with a specially designed turf wash. Sanitizing washes for turf are typically non-toxic, eco-friendly, and easy to locate at hardware stores or conveniently online.
Low-Maintenance Artificial Grass Putting Greens
Artificial grass requires minimal care and maintenance to stay lush and green, but by introducing some quick care tips into your regular putting green care routine, your backyard putting green will remain functional and inviting for longer.
Contact Echoing Green to Design Your Own Personalized Backyard Putting Green Today.