Should You Install a Putting Green In Your Backyard?
Have you been toying with the idea of installing a backyard putting green? Staying at home day after day can quickly become dull and uneventful, but you don't have to resign to that feeling of boredom. A putting green can breathe new life into your yard! Whether you're looking to gift the golf lover in your life or a way to engage in some wholesome family fun, a putting green is a great addition to any backyard for professionals and amateurs alike. At Echoing Green, we can provide you with an artificial grass in Toronto for custom outdoor putting greens that play like a hole at your favourite course.
What are the benefits of installing a putting green in your yard?
Anytime Access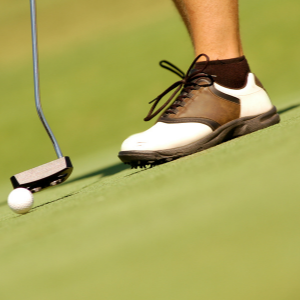 When you install a putting green into your yard, you have complete access to it any day and any time. You will be able to forgo concerns about securing a tee time or finding an open driving range and access the fun of golf right at home. A backyard putting green is your own, so you can sharpen up your short game according to your schedule and give yourself an extra edge next time you hit the links.
Longevity
When you install a custom green from Echoing Green, your artificial putting green turf is engineered to perform over a long period. From the point of its manufacturing to installation, infill, and UVprotection, our synthetic turf is durable to withstand varying conditions. Even after repetitive use, continual foot traffic, and extended exposure to sunlight, your putting green turf is designed for long term use. Despite being installed outside, Echoing Green's premium European synthetic turf drains water effectively and also resists damage from Toronto's ever-changing weather conditions to last many years.
Family Fun
A putting green is an excellent addition to your backyard if you're looking to engage the whole whole family. Summer days, when school is out, can leave families with a lingering uncertainty of what to do to make each day exciting. A backyard putting is a simple yet fun option that everyone can enjoy, engaging in putting competitions from the comfort of your home.
Low Maintenance
Unlike natural grass, synthetic grass putting greens are easy to care for because it requires minimal maintenance. You don't have to worry about watering, mowing, or fertilizing your grass. Your artificial turf will stay lush and green without you having to lift a finger. All you have to do is remove fallen leaves and other debris that can collect on your putting green and rinse with water, then play!
Landscaping
Your putting green is just one element of your backyard. It can be a focal point of your entire yard or complimentary to your complete design. A putting green can add to your landscaping, and because it's customizable you can choose the stones, shapes, and other details to ensure it looks the way you want. If you're looking for an easy-to-maintain green backyard, Echoing Green can install lush artificial grass around your home in addition to your putting green turf.
Length Of Installation
When you get a custom Echoing Green putting green, you can get your clubs out because you will be sharpening your short game in no time. Depending on the design, your dream putting green can be installed in as little as one week, so fast it could be ready for use before summer!
Explore the Artificial Grass Possibilities
At Echoing Green, we provide beautiful and functional putting greens customized to your vision. We use our premium artificial grass, sourced from the best European manufacturers, to create a look, feel, and experience unmatched by the average artificial grass. When you shop Echoing Green for a one-of-a-kind putting green from the turf to artificial grass installation, we will customize every element of your design, including size, fringe, and topography, so every putt and every ball roll acts as it would on the course.
Contact the experts at Echoing Green to get started designing your customer putting green right away.