5 Tips for Building a Backyard Putting Green You'll Love For Years
A backyard putting green is an unconventional yet exciting addition to your home for golf lovers and newcomers alike. A golf green built with high-quality artificial grass in Toronto will last you years, even decades, so it's best to think about how you can optimize design, installation, and play right from the get-go. Follow these tips to create a putting green you'll look forward to playing for years to come.
Natural Breaks and Bends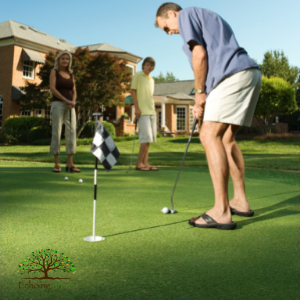 A golf green should not be flat. Just like on the golf course, there should be seamless bends and breaks in the design of your backyard putting green. Creating these elevations in the topography will not only make your green more enjoyable to play, but it will also more effectively help you fine-tune your putting skills. A straight to the hole will get boring quickly, so it's a good idea to think about maximizing your enjoyment 5 to 10 years from now because a putting green made with artificial grass in Toronto will last that long.
At Echoing Green, we will help you design a golf green with intricate topographical details that bring your vision to life.
Maximize Drainage
One of the best qualities about artificial grass in Toronto is that it's not live, so there's no dirt which means unlike natural grass, it's unlikely to get muddy or attract mold growth. With that being said, a backup of water can ruin the play of the green, attract mosquitoes, and create a dangerously slippery surface. Proper drainage from the point of installation and from the artificial turf itself is essential for avoiding excess water.
Artificial turf from Echoing Green is engineered to facilitate drainage. Our team of installation experts will ensure that water will flow effectively away, so it doesn't disrupt your backyard.
Choose High-Quality Infill
Infill is an essential component in the installation of artificial grass in Toronto. Infill weighs down turf to hold its shape, improves durability, and resists bacterial growth. When you choose a high-quality infill for your artificial grass installation, you are investing in prolonging the life of your backyard putting green. If infill is not up to par or the depth is not appropriately maintained, the grass may sink, impacting ball roll. High-quality infill lasts longer in your artificial grass putting green and does its job better, which means you will have to maintain it even less frequently.
Add Some Fringe
The fringe is grass that frames the putting green, usually darker in colour and longer than the putting green turf. When you add fringe to your putting green design, you are not only creating a more visually pleasing putting green, but you're also introducing the opportunity to practice chip shots, which better mimic the experience of being on the course.
Clean Your Green
The lack of watering, fertilizing, and mowing is often the reason why homeowners opt for artificial grass in Toronto. While the amount of care necessary is low, it's important to stay on top of it to maintain the functionality of your putting green. Remove debris, gently rake grass, and top up infill when necessary. If you're not sure the best way to care for your green, the team at Echoing Green will share care tips as it relates to your unique putting green installation.
Contact us to get started on your backyard putting green today!