Why UV Protection is Important When Installing Artificial Grass for Rooftops
At Echoing Green, our selection of luxury artificial grass in Toronto and throughout Canada are UV-protected to protect their longevity and vibrancy. UV rays are light and energy emitted by the sun through space and reach Earth. There are two main types of UV rays: UVA (this exposes us during daylight) and UVB (which is a result of heat from the sun). UVB rays can be more intense than UVA rays, as they are especially powerful during the hottest parts of the day. The sun's UV rays can be incredibly harmful, causing skin damage, bleaching, and deterioration of synthetic materials. When placed high up in the sky with fewer buildings or trees to cast shadows, sun exposure is only more. While artificial grass for rooftops is engineered to perform well and be successful in its environment, not all synthetic turf is made equal.
At Echoing Green, we supply high-quality rooftop turf designed to prevent damage and wear from UV rays.
Mitigate Colour Bleeding & Fading with Artificial Grass Toronto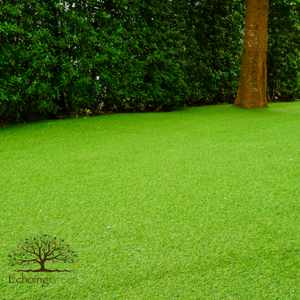 The sun is a powerful heating and bleaching agent as a result of UV rays. Extended exposure to the sun can cause chemical bonds in artificial grass to break down, leaving the grass vulnerable to fading. On the other hand, some synthetic grass is designed to reflect UV rays instead of absorbing them, reflecting rays away and ensuring colour fastness. The speed of fading can vary depending on where your artificial grass is located. When you install artificial grass for rooftops, it's even more critical to ensure it's equipped to deter UV damage as there will be fewer obstructions from the sun than if it were installed on the ground. At Echoing Green, our artificial grass is engineered uniquely, unlike most other synthetic turf products in Canada to protect against colour fading.
Overheating
If not installed properly, rooftop turf can risk overheating due to its unobstructed contact with the sun, especially during Toronto's notoriously hot summer weather. When artificial grass overheats, it becomes difficult to walk barefoot. If your artificial rooftop turf is installed around swimming pools, playgrounds, or pet turf, overheating can be painful, especially for unsuspecting kids and pets. To prevent overheating from UV rays, artificial grass from Echoing Green is treated for UV protection but also installed with high-quality infills like TCool and Envirofill to effectively deter heat instead of absorbing it.
Yarn Splitting
Sunlight and heat can cause the individual blades of artificial grass that are not adequately equipped for sun exposure to fray and deteriorate. This process is known as yard splitting. When yarn splitting occurs, synthetic turf not only becomes less and less appealing visually, it also loses its grass-like sensation, becoming uncomfortable to walk or play on. When you choose artificial grass for rooftops from Echoing Green, the yarn splitting experience is highly unlikely, as our turf is specially engineered to defend deterioration from the sun and maintain the look and feel of natural grass, even high up in the sky.
Long-Lasting Synthetic Turf in Toronto
Ultimately artificial grass for rooftops that are appropriately designed, manufactured, and installed to prevent UV damage, are more durable and last longer. UV-treated artificial grass extends the lifespan of artificial grass, making it a more cost-effective investment.
Call Echoing Green today to learn more about installing premium synthetic turf for your roof.