Artificial Grass for Rooftops and Decks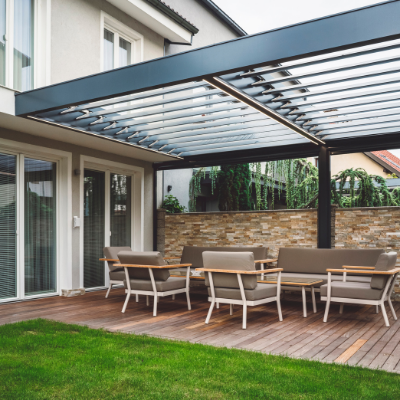 These days, we don't think twice about artificial grass in an outdoor environment. But as products improve, other applications have emerged, and with great outcomes. For example, rooftop turf has become quite a popular option for high-rises, balconies, and even rooftop gardens.
For those thinking about installing artificial grass in Toronto, the options are countless, and even in spots, you wouldn't expect. With a quality product and quality installation, installing artificial turf has never been easier – and creative applications are limited only by imagination.
Echoing Green Installs High-Quality Artificial Grass in Toronto and the GTA
With Echoing Green, artificial grass goes well beyond outdoor landscaping. We install our high-quality turf products on rooftops, outdoor decks, and rooftop patios. In fact, we can install our products on practically any outdoor surface, along with the appropriate drainage.
In recent years, rooftop applications have become much more common in townhomes, condos, and apartment buildings. These are unique outdoor spaces, and a rooftop turf application can transform the space and enhance the comfort and function of the environment.
Artificial Grass Offers Benefits and Advantages in Rooftop Applications
In a rooftop application, artificial grass looks and feels exactly like natural grass. The advantage, of course, is that there is no maintenance required – and no bugs or weeds to worry about.
Artificial grass can be installed on most surfaces, as long as the integrity of the surface is in good shape. A professional installation will ensure the proper drainage system to suit the space.
Countless Artificial Grass Applications for a Variety of Outdoor Living Spaces
Understandably, the size and layout of a rooftop space will have a bearing on how artificial grass will be installed. With a professional installation and a high-quality product, it's possible to create an outstanding outdoor living space. As for design options, the possibilities are truly limitless.
installing a rooftop garden with landscaping components
creating a personal "putting green" for the avid golf fanatic
designing a safe and secure "playground" area for children
allocating a designated outdoor area for a "pet restroom"
For Rooftop Turf Applications in Toronto Count on the Experts at Echoing Green
By far, a professional installer will provide the best installation results with artificial grass. From the preparation work to the actual installation, it's far better to deal with an expert. More than that, potential problems are more easily managed and proper remedies are readily available.
Whether you're installing indoor or outdoor turf, Echoing Green provides the highest quality products, along with superior workmanship. We have been satisfying residential and commercial customers for many years now and supporting our work with our 10-year company warranty.
If you're considering artificial grass in Toronto, contact Echoing Green at 647-494-4883 or visit our company website at https://www.echoinggreen.ca to find out more about our products.