Torontonians, Stop Wasting Your Summer Taking Care of Your Lawn
After a long and cold winter, summer provides an excellent opportunity to spend time with family and friends enjoying the outdoors. However, many homeowners find that they spend a lot of the summer taking care of their lawn and garden. Although some people enjoy gardening, many people find it tedious to spend a lot of time and money on their lawn. Between watering, weeding, and mowing, there is barely enough time to enjoy your grass during the summer. Backyard turf is an excellent option for minimizing your lawn maintenance routine. Artificial grass in Toronto homes is transforming how people experience their outdoor living space.
Natural Grass Needs Constant Maintenance
With a grass lawn, you likely spend most of your summer sticking to a strict watering and maintenance routine. Without careful attention to detail, your yard can quickly become dry and brittle and even die due to the summer's hot, arid conditions. Most homeowners prefer a lush lawn's aesthetic and utility and spend most of their summer chasing the dream of beautiful green grass. This takes a lot of time and money away from summer activities you could be enjoying with your friends and family. Backyard artificial grass installation can simplify your lawn care routine and help you focus on enjoying the summer instead of toiling over yard work.
Save on Chemicals and Fertilizer
Natural grass requires a suite of chemicals and fertilizers to help it stay lush and green. You may pay for chemicals at your local hardware store or pay a landscaping company to assist with aeration, treating the grass for weeds and pests, and adding fertilizer to help the grass thrive. With artificial grass in Toronto, you will no longer require expensive chemicals and fertilizers. Your lawn will look lush and green all year long and require no chemicals, protecting the health and safety of your children and pets.
Maintenance Needed for Artificial Grass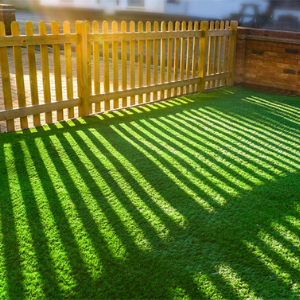 Artificial grass in Toronto simplifies the maintenance routine of homeowners. Backyard turf and artificial grass require minimal maintenance: occasional raking to remove leaves and sticks that can make the lawn look unsightly. Compared to a traditional lawn, this will free up a lot of your time in the summer. Instead of following a strict sprinkler schedule or trying to get rid of dandelions, you can enjoy your outdoor living space worry-free. With less time spent on maintenance, you and your family can enjoy your yard and soak up the summer sun.
Artificial grass in Toronto is a safe and virtually maintenance-free alternative to traditional lawns.
With backyard turf, you can enjoy your lawn without worrying about the grass becoming patchy or faded. Many artificial grass companies offer warranties to help you enjoy your grass, knowing it will last through years of Canadian weather and heavy foot traffic.
At Echoing Green, we provide backyard turf and artificial grass in Toronto area homes. All our products meet the rigorous standards of European excellence, and our artificial grass includes a 10-year warranty. Echoing green artificial turf is UV-protected and resistant to fading. With a new artificial lawn, you will increase the curb appeal of your home and be able to enjoy lush, green grass all year long. When it comes to installing an artificial lawn, Echoing Green has over 20 years of experience providing premium turf to homes in the Greater Toronto Area. With a satisfaction guarantee, you and your family can enjoy a brand-new lawn and minimize your lawn maintenance routine to make the most of the summer. Contact the Echoing Green team at 647-494-4883 to explore backyard turf options and the type of products available for Canadian homes.