Artificial Grass for Backyards in Toronto and the GTA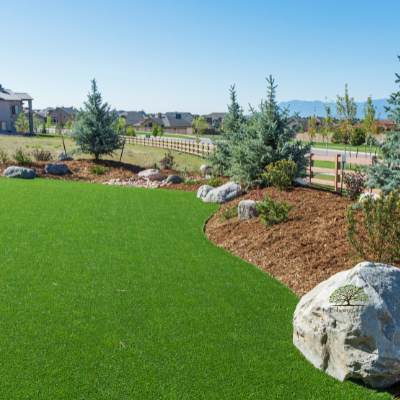 Are you tired of the never-ending cycle of lawn maintenance?
Realize significant time and cost savings. Homeowners tired of spending all of their time and energy mowing and watering their lawn instead of enjoying their outdoor space are making the switch from natural grass to artificial grass for backyards. When you say goodbye to demanding natural backyard
Unlike live grass, artificial grass from Echoing Green stays lush and vibrant effortlessly without the need for incessant watering, mowing, raking or fertilizing. It's safe for play, even for kids and pets. With backyard turf, your home stays effortlessly green and pristine all year long despite weather changes. There aren't even any weeds when artificial grass installation includes a highly effective weed barrier.
Make the switch to artificial grass in Toronto with Echoing Green, and your grass will be beautifully carefree for more than 10 years.
Features of Artificial Turf in Toronto
The perks of residential turf are seemingly endless. Not only does installation save time and money by eliminating regular lawn care, at Echoing Green, our turf is also designed for enhanced performance, offering UV protection and superior drainage - unlike any other artificial grass Toronto.
UV protection prevents sun damage from the ultraviolet rays emitted from the sun every day. This preserves the integrity of an artificial lawn for longer while improving overall durability. Synthetic grass without UV protection may overheat when exposed to direct sunlight for extended periods, but at Echoing Green, that's not the case. Our turf stands strong against the heat, UV protective treatments paired with top quality infill regulate your new lawn's temperature to maximize comfort. It also stops bleaching and any colour fading for a vibrant appearance for years to come.
The premium polyurethane backing of our exclusive artificial turf enables superior drainage to facilitate the flow of water away from the surface turf. So, water from heavy rainfall, snow, or just a quick rinse will drain to stop water from backing up and collecting bacteria. High-quality infill like TCool will also help prevent mold, mildew, and bacteria growth in your backyard turf.
Backyard turf is virtually weed-free. Stop spending on pesticides and herbicides, and put an end to hours invested in removing weeds. Installed with an effective weed barrier, pesky, unwanted weeds can't break through the surface and infest your perfect lawn. Artificial grass for backyards eliminates weed infestations, mold, and other seasonal allergens that can keep those affected out of the backyard. When you make the switch, your backyard can be a safe haven for all.
You can shop all our turf and install equipment online anytime or call the team for an expert consultation.
What Do You Need to Install Artificial Grass For Your Backyard?
You can DIY your artificial grass installation or get professional artificial grass installation services. Depending on the size of your property, backyard turf can be installed in just a couple of days, ready for use before you know it. Find all the tools you need: seam tapes, glue, infill, staples, and fasters, as well as your exclusive European-made turf online from Echoing Green.
Contact our team for more information on your new backyard today.
Backyard Turf Landscaping Ideas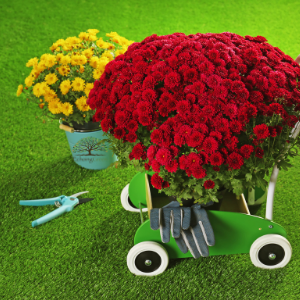 With fall weather turning backyard grass brown and lifeless, many homeowners are realizing the year-round benefits of installing artificial backyard turf. It's the best way to enhance backyard landscaping and create a beautiful oasis season after season.
In recent years, synthetic grass has benefited from dramatic product improvements. And today's products are more impressive than ever – durable performance around the year; many seasons of performance; and best of all, beautiful green grass every day.
Much different than real grass, artificial grass for backyards needs minimal maintenance and minimal upkeep cost. Homeowners who are considering synthetic grass in Toronto can enjoy the genuine look and feel of grass with none of the seasonal maintenance.
In the backyard, the options for installing artificial turf are almost limitless. With a professional install, a completely new landscape can be created, or highlights can be added to handsomely accent existing features. Artificial turf can provide added functionality while enhancing aesthetics. What homeowners and landscapers love about artificial grass for backyards is its inherent versatility that allows it to be used for a variety of applications while maintaining significant long term benefits.
Combining artificial turf with existing features - Combining artificial turf with existing landscaping features allows a homeowner to keep trees, shrubs, and flowerbeds intact. It means that everything will blend seamlessly, combining natural and artificial features. Artificial turf is easily customized to curve around walkways and shrubbery.

Enhancing an existing back deck or walkway - Artificial grass can be an excellent surface covering for a backyard deck. It's certainly a different approach but provides a "barefoot friendly" covering that needs no maintenance. The same goes for trimming interlocking stonework or stepping-stones and creating an innovative design look.

Creating unique and striking garden features - Oftentimes, it's not practical or necessary to replace an entire backyard with artificial grass. With a little creativity and a professional installation, it's possible to beautify existing garden features and make a great impact. With artificial turf, it's difficult to notice a difference from real grass.

Installing a creative kids playground space - In anticipation of spring and summer, backyard turf can be installed to create a safe and clean outdoor space for the kids. Whether it's an apportioned play area or a fabulous jungle gym, this is the ideal outdoor environment – easy to clean; durable and resilient; hygienic for kids and pets.
As more homeowners come to appreciate the benefits of artificial grass, switching over becomes an easy decision. Wherever installed, there's no need to fertilize, water, or to mow. What's most important when considering synthetic grass in Toronto is to do the work with the right company.
Installing Artificial Turf Around Your Swimming Pool
If you have a swimming pool in your backyard or are looking to install one, you might notice that the perimeter of the pool getting slippery as a result of splashing and water displacement or you may also notice that pavement exposed to the sun overheats making barefoot walking when entering your swimming pool unbearable during the city's notoriously hot summers.
Artificial grass in Toronto not only enhances the appearance of your backyard when installed poolside, it also creates a long lasting solution to these common problems caused by concrete. At Echoing Green our artificial grass is treated for UV Protection, protecting the synthetic turf from heating up too much even in the hot Toronto sun.
Also our turf's effective drainage capabilities facilitates the flow of water away from the surface to reduce slippery surfaces, unlike concrete. Thick under padding added during the installation of artificial grass in Toronto, creates a safer environment, minimizing injuries in the event of unlikely slips and falls.
Artificial Grass for Garden Landscaping
For many Torontonians, a backyard garden is your own personal oasis that you invest both time and energy into. Because natural grass is organic and often difficult to manage, it has the tendency to negatively impact vegetable and flower gardens, bringing pests and weeds that take away from the look and functionality of a garden.
You can help your backyard garden flourish by replacing natural grass with synthetic turf, as it is better equipped to deter pests. When artificial grass is used in place of natural grass for landscaping, the chances of weeds popping up are significantly reduced. At Echoing Green, artificial grass installed over dirt is typically installed without any topsoil, which virtually eliminates the potential for garden intruders in the soil. Also, our team of experienced installation specialists use high quality weed barriers to suppress any weeds from penetrating the pristine surface of your artificial lawn and spreading to neighbouring gardens.
When it comes to mosquitoes, flies, and other pesky insects that take a liking to natural grass and garden plants, artificial grass is the key to deterring them as well. Mosquitoes are attracted to stagnant water, so when you install well-draining artificial grass from Echoing Green, you can count on water to keep flowing even after heavy rainfall, minimizing the welcomeness to mosquitoes. Our artificial grass is also installed with antimicrobial infill that deters other pests and fleas by reducing the opportunity for mold and bacteria to take hold in gardens.
Why Choose Premium Artificial Grass for Your Backyard
At Echoing Green we are an exclusive supplier of European-made artificial grass for backyards in Toronto. Our range of synthetic turf is engineered to outperform competitors in durability, weather resistance, drainage, and longevity. When you choose Echoing Green for your backyard landscaping, we provide a high quality product and high quality installations for an overall look and feel of live grass enhancing the look and appeal of your backyard. We are confident in the performance of our synthetic turf, so we back all of our grasses with a 10 year warranty.
Echoing Green Installs Quality Synthetic Grass in Toronto
Whether you're choosing to install artificial grass outdoors or indoors, the very best results are achieved with a quality product and a quality installation.
If you're ready to install artificial turf contact Echoing Green at 647-494-4883 or request an online project estimate. One of our in-house artificial turf professionals can offer a variety of options for indoor/outdoor installations.
Echoing Green - Artificial Grass Toronto - 140 Yonge St Suite 373, Toronto, ON M2R 3V1