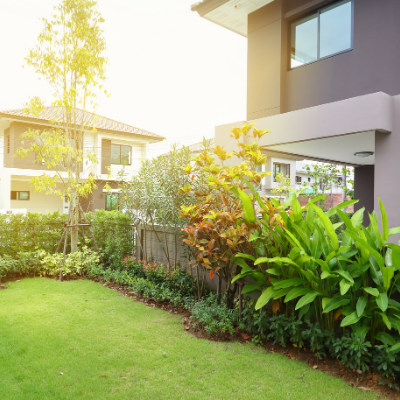 With fall weather turning backyard grass brown and lifeless, many homeowners are realizing the year-round benefits of installing artificial backyard turf. It's the best way to enhance backyard landscaping and create a beautiful oasis season after season.
In recent years, synthetic grass has benefited from dramatic product improvements. And today's products are more impressive than ever – durable performance around the year; many seasons of performance; and best of all, beautiful green grass every day.
Much different than real grass, artificial grass needs minimal maintenance and minimal upkeep cost. Homeowners who are considering synthetic grass in Toronto can enjoy the genuine look and feel of grass with none of the seasonal maintenance.
In the backyard, the options for installing artificial turf are almost limitless. With a professional install, a completely new landscape can be created, or highlights can be added to handsomely accent existing features. Artificial turf can provide added functionality while enhancing aesthetics.
Combining artificial turf with existing features
Combining artificial turf with existing landscaping features allows a homeowner to keep trees, shrubs, and flowerbeds intact. It means that everything will blend seamlessly, combining natural and artificial features. Artificial turf is easily customized to curve around walkways and shrubbery.
Enhancing an existing back deck or walkway
Artificial grass can be an excellent surface covering for a backyard deck. It's certainly a different approach but provides a "barefoot friendly" covering that needs no maintenance. The same goes for trimming interlocking stonework or stepping-stones and creating an innovative design look.
Creating unique and striking garden features
Oftentimes, it's not practical or necessary to replace an entire backyard with artificial grass. With a little creativity and a professional installation, it's possible to beautify existing garden features and make a great impact. With artificial turf, it's difficult to notice a difference from real grass.
Installing a creative kids playground space
In anticipation of spring and summer, backyard turf can be installed to create a safe and clean outdoor space for the kids. Whether it's an apportioned play area or a fabulous jungle gym, this is the ideal outdoor environment – easy to clean; durable and resilient; hygienic for kids and pets.
As more homeowners come to appreciate the benefits of artificial grass, switching over becomes an easy decision. Wherever installed, there's no need to fertilize, water, or to mow. What's most important when considering synthetic grass in Toronto is to do the work with the right company.
Echoing Green Installs Quality Synthetic Grass in Toronto
Whether you're choosing to install artificial grass outdoors or indoors, the very best results are achieved with a quality product and a quality installation. At Echoing Green we've been satisfying customers for many years and assuring long term results with our 10-year company warranty.
If you're ready to install artificial turf contact Echoing Green at 647-494-4883 or visit our company website at https://www.echoinggreen.ca and request an online project estimate. One of our in-house artificial turf professionals can offer a variety of options for indoor/outdoor installations.