Top 5 Reasons Artificial Grass is Perfect for the Outdoor Space in Your Condo
Torontonians have been moving away from single, detached homes for quite a while now. The 2016 census found that more Torontonians are living in multi-story buildings than ever before. As vertical growth increases, city-dwellers are turning to artificial grass in Toronto to enhance the outdoor living space in their condo. Despite the increase in high-rise condos, artificial grass enables the city's growing number of condo residents to achieve the custom, cozy backyard environment that they want.
If you're still on the fence about synthetic turf, we've put together a list of 5 reasons it could be the perfect fit for you.
Easy to Install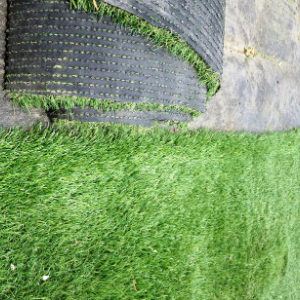 Artificial grass can be installed onto slabs of concrete to enhance the look and feel of outdoor spaces that are often uninviting. Even up in the sky, artificial grass in Toronto is a quick and straightforward artificial grass installation process that you can DIY. If you shop Echoing Green for your artificial grass needs, you can get premium synthetic turf and top-notch installation service all from one place.
Pest Free
When you have a natural lawn, you're more likely to invite annoying pests to infiltrate your personal space. Water and grass clippings from natural lawns will have you swatting flies instead of soaking up the sun or enjoying some much-needed rest and relaxation. Because artificial turf doesn't require organic matter like topsoil, you can easily keep pests out without investing time and money into pesticides, citronella, or bug spray.
Customizable
Unlike a natural lawn, artificial grass can be customized to suit your space and personality. When shop Echoing Green's selection of premium artificial grass, you can choose from different lengths and thicknesses to get the look and feel you want. You can also choose the colours and logos printed into your grass to create a personalized product that matches the aesthetic you want. If your condo space is not a standard shape, your artificial grass for rooftops and deck can be cut to fit precisely the way you want.
Pet Friendly
Artificial grass is the perfect solution for pet owners living in high-rise condos around the GTA. When nature calls your pet, instead of escorting them up and down then searching for grass, you can just go right outside to your balcony, and your pet can use artificial grass as a potty pad. Artificial grass is an easy, hassle-free solution for pets. Artificial grass is easy to clean up and convenient.
Low Maintenance
Artificial grass for decks and rooftops is far more cost-effective and manageable than natural grass lawns. When you opt for artificial grass in Toronto, you won't have to worry about how it holds up in ever-changing weather conditions like rain, wind, ice or snow. And even in the city's hot summers, Echoing Green's artificial grass is protected against colour-fading from the sun's UV rays.
The Best Articicial Grass for Outdoor Spaces
Artificial grass creates the look and sensation of a lush natural lawn without tedious care. Whether you're entertaining, enjoying some alone time, or caring for your pet, synthetic turf is a simple and effective way to integrate grass into condo living.
Call or Email Echoing Green to get artificial grass for your condo right away!