The Importance of High Quality Backings for Artificial Grass in Toronto
As artificial grass in Toronto becomes more popular, it is becoming increasingly available from many various suppliers, leaving homeowners faced with evaluating each option and its ability to serve their needs. For homeowners and landscapers looking to choose the best residential turf on the market, one telltale sign of premium artificial grass for backyards is the quality of the backing.
At Echoing Green we provide our customers with exclusive turf, designed with a superior backing that is engineered to perform at peak for years.
Why Does the Backing Matter?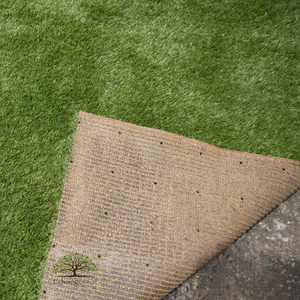 Higher quality materials and design determine the lifespan of artificial grass for backyards. Ineffective backing can cause a host of problems, especially in the case of artificial grass for backyards, where turf is exposed to the elements. With subpar backings, precipitation may lead to bubbling turf, water back ups, and an increase in debris. However when the backing is designed to accommodate rainfall, water, and debris, the artificial turf will go the distance.
How Does Artificial Grass Backings Work?
There are typically two layers of backing used in turf for outdoor applications like artificial grass for backyards. The first layer is where synthetic grass fibres are sewn, serving as the base for synthetic grass fibres. The second layer is responsible for comfort and plays a significant role in the durability of artificial grass. The secondary layer of backing of artificial turf is usually available in two main options: latex or polyurethane. While in the past latex backings have been the traditional choice when it comes to artificial grass for backyards, landscapers and homeowners are beginning to notice the long term benefits of polyurethane for artificial grass in Toronto.
Polyurethane Backing Over Latex
Echoing Green offers premium turf manufactured with polyurethane backings to outperform traditional latex turf. Polyurethane is a type of plastic known for its versatility, flexibility, and resilience, when applied to artificial grass installations it is extremely beneficial. Artificial grass for backyards that boast polyurethane backings are lightweight and easier to install than latex turf. Water flows more effectively through polyurethane which supports high level drainage and water resistance, homeowners need from backyard turf.
Not only is polyurethane a good choice for landscaping, it helps keep allergens like dust and weeds at bay, creating a better outdoor experience for pets and people alike. If you're concerned about the environmental impact of artificial grass, polyurethane is recyclable thus a more sustainable choice. Finally artificial grass equipped with polyurethane at its base more effectively keeps synthetic grass fibres in place for longer periods of time.
How to Assess The Quality of Your Turf?
A telltale sign of ineffective backing when it comes to artificial grass in Toronto is separation. Since the backing is composed of layers, they can split apart if not designed properly. If this happens individual fibres will separate diminishing the look and feel of your turf. At Echoing Green our grasses are designed and tested to ensure the backing enables a high quality tuft lock, keeping fibres in place for years.
Our exclusive artificial turf at Echoing Green uses polyurethane backings to ensure a high quality finish and longevity in every lawn. If you notice a problem with our turf we offer a 10 year warranty.
Contact us today to learn more about artificial grass from Echoing Green.