How to Strengthen Your Short Game with Putting Green Turf
Putting green turf has been a complete game-changer for golf lovers across the city. At-home golf equipment has allowed newcomers and longtime players to access, practice, and play the game from the comfort of their own homes. With custom backyard turf, homeowners can do more than upgrade their landscaping and gardens; you can also transform a section of your backyard into a fully functional green with putting green turf that allows you to hone your golf skills.
Looking to strengthen your short game? See how you can do it with putting green turf and Echoing Green.
Design a Custom Backyard Putting Green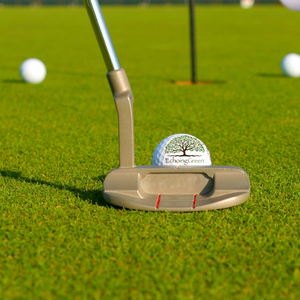 To practice your putting at home, you'll need somewhere to play. Golf mats are sold in many retailers, but these generic mats don't feature the architecture or provide the full experience of a natural golf green. Designing and building a large-scale putting green with high-quality backyard turf allows you to capture the essence and challenges of the game in your own home. With Echoing Green, you can completely customize your putting green design, choosing the topography, bends, and breaks of the green as well as the hole locations. If you're really looking to increase your putting capabilities, it's a good idea to make the green more challenging, so it offers more intricate reads.
Choose the Right Putting Green Turf
To emulate the feeling of being on a real or professional green, your putting green turf must perform at a high level. At Echoing Green, our superior backyard turf for golf greens is short and densely packed, enabling a smooth ball roll that compares to that of a well-maintained golf course. All backyard turf from Echoing Green is engineered to permit effective drainage, so water doesn't back up or pool on the surface of your green. Even after long dormant periods, you will never have to worry about oversaturation or grown-out grass.
Key Putting Green Hole Location
For a practice green to really serve its purpose, you can't keep playing the same putt or hole over and over again. To get the most versatility from your backyard green, choose multiple hole locations that range in difficulty so you can get the most from your putting green. When you work with the Echoing Green team, you can work directly with us to plan out your ideal green and hole locations. And all artificial grass putting green installations at Echoing Green come with flags!
Don't Forget the Rough
Not all fairway shots end up on the green. It's frustrating to aim for the green only for your ball to land in the rough, where getting it close to the hole or even back on the green can be pretty tricky. By installing artificial grass around your backyard putting green to simulate the rough, you can practice chipping it in with your wedge iron.
Artificial Turf Putting Greens from Echoing Green
When you choose to install an artificial grass putting green in your backyard from Echoing Green, you can give yourself year-round access to golf for decades. Our high-quality installations and durable turf will withstand years of day-to-day use, even when exposed to the Canadian climate, without divots or a decline in performance.
Call to Learn More About Our Putting Green Design Services!