Can Artificial Grass For Backyards Eliminate Allergies?
Artificial grass for backyards can eliminate the allergy symptoms triggered by natural lawns in Toronto. If you're in your own backyard, you should be comfortable whether you're lounging, entertaining, or spending time with your family. However, the truth is that approximately 20%-25% of Canadians are affected by seasonal allergies that impact time spent outdoors. Artificial turf in Toronto from Echoing Green, doesn't retain the same allergens that take the enjoyment out of being outdoors.
If anyone in your home suffers from seasonal allergies, installing artificial grass in Toronto can provide a long-term solution to ease discomfort and symptoms.
Allergens in Natural Lawns?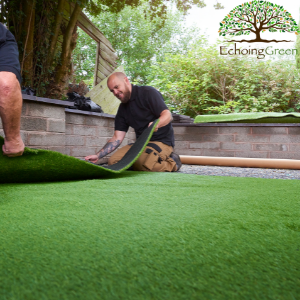 When Spring starts in Toronto through the duration of Summer, people with seasonal allergies are affected increasingly by the change in the weather and environment. Grass allergies are actually very common, causing symptoms like sneezing, hives, runny nose and more. The best way to avoid the effects of a grass allergy is to avoid the pollen from grass which typically means staying indoors.
Unfortunately, staying indoors isn't always good enough. Grass pollen that initiates allergic responses can be dragged into homes through open doors, windows, clothes, and shoes.
This solution is not really fair to those with allergies who love to be outdoors, and it's difficult to maintain even when affected individuals remain inside during allergy season. That's where artificial grass comes into play. Artificial grass for backyards replaces natural lawns eliminating pollen and other allergens from the vicinity, so you and your loved ones don't have to choose between suffering outdoors or locking yourselves inside.
Benefits of Artificial Grass in Toronto for Allergies
Grass allergies are often triggered after lawns are mowed, as the process disrupts pollen, causing clippings to enter the air and move around. As grass pollen becomes airborne, it can easily be inhaled or come into contact with your eyes, mouth, or nose, triggering an allergic response.
Neighbouring Natural Lawns
When you install artificial grass for backyards, there is no organic material needed to be involved. The artificial turf is installed at the desired length requiring no mowing. Weed-blocking sheets are installed below the surface of the turf to prevent the growth and infiltration of weeds. Anti-weed barriers in artificial turf further deter pollen from entering the vicinity.
Mold Allergies
Mold can occur in natural grass and cause an allergic reaction. About 25% of people are allergic to mold, 10% of whom can experience severe illness. Artificial grass from Echoing Green is manufactured according to the highest European standards and installed with a top-quality infill designed to deter bacterial growth and facilitate drainage to avoid mold growth.
Pets with Allergies
In addition to allergies to grass pollen and flora, dogs and cats can experience allergic reactions to lawn chemicals, specifically fertilizers and herbicides. While most chemicals for natural grass are toxic if ingested, even in storage, inhaling fertilizer treatments can cause an adverse reaction to pets.
You can minimize this risk of allergic reaction to your pets by replacing natural grass with artificial grass in Toronto. Our pet turf doesn't require any chemical treatments, nor does it produce or hold onto pollen. At Echoing Green, you can install artificial grass for dogs and cats specially designed for the comfort of your pets.
Allergy-Free with Artificial Grass from Echoing Green
Be comfortable in your home and soak up the sun while it's here by replacing natural grass with artificial turf in Toronto. Exclusive synthetic turf from Echoing Green minimizes allergy triggers like mold, pollen, and chemicals so you, your kids, and your pets can enjoy the season.
Contact Echoing Green today for exclusive artificial grass for your Toronto backyard!