8 Common Questions About Backyard Golf Greens: Answered
There's no reason your home has to be just like all the others in the neighbourhood. Whether you're looking to practice your short game or have a little fun with the family, a backyard golf green is a great addition to your home to create a more unique and exciting experience. While both home putting greens and artificial grass in Toronto are becoming more popular, neither are the norm for homeowners. So, if you have a few questions about installing a synthetic turf putting green in your yard, it makes sense. Read on for answers to some of the most common questions regarding residential putting green turf.
How Much Does It Cost?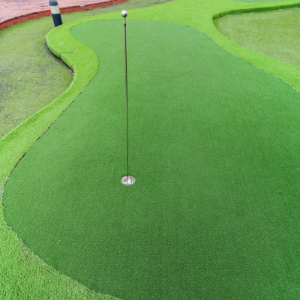 The cost of a putting green depends on many variables. The type of turf, the size, the design, and the difficulty of artificial grass installation may all be factored into the cost. The good news is that because the price can vary, you are more likely to be able to adjust your vision of your backyard putting green to suit your budget. Also, the upfront costs usually work out to be more cost-effective over time than maintaining a natural lawn because you save lawn care costs like watering and fertilizing.
How long does it last?
On average, the lifespan of artificial grass is around 15 years, but with pristine care, it can last as long as 20-25 years. At Echoing Green, our artificial grass is specifically designed for durability so that it will last years without thinning or fading. Our synthetic turf is tested and built according to strict European standards. If there is a problem with our turf, we offer a 10 years warranty to guarantee the satisfaction of our customers.
Will it get damaged?
Unlike natural lawns, putting green turf won't succumb to divots and bald spots even after constantly hitting a putter against it or constant walking on top of it. Artificial grass putting greens are designed with functionality in mind, which means they are built to resist damage and withstand constant use, walking, and pressure.
Putting green turf from Echoing Green is manufactured with enhanced UV protection to avoid colour bleeding. It's also installed with high-quality infill to properly maintain its shape.
What makes it different from natural grass?
The difference between natural and artificial grass is that natural grass is more vulnerable. Artificial grass will not succumb to infestations, it won't yellow or die, and it's low maintenance. Taking care of an artificial putting green is essentially effortless as they require no watering to keep their colour, mowing to hold their shape, or fertilizing to maintain their fullness. With that being said, our premium artificial grass putting greens are still designed to offer the lush sensation, green appeal, and performance of natural grass.
Does It Have to Be Outdoors?
Your putting green does not have to be outdoors. If you want to opt for an indoor putting green instead of a backyard golf green, you can do so without sacrificing any functionality or quality. Because putting green turf does not require sunlight, water, or topsoil, it can easily be installed and kept indoors for year-round fun.
Can It Be Customized?
Putting greens on the golf course are all uniquely designed, and that goes for your putting green as well. You can choose the size of your backyard golf green and the topography layout. With Echoing Green, we design artificial turf putting greens to make your unique vision come to life, so you have control over everything from where the holes are located and even the shape of your indoor or backyard golf green. Our custom backyard turf can also be personalized with custom colours and even branding if you want to really make your golf green unique.
How Will the Weather Affect It?
Our backyard turf is designed to be weather-resistant, even in Toronto, where the weather can fluctuate seasonally from one extreme to the next.
Summer:
Extreme heat in the summer won't cause the temperature of backyard turf to rise to an unbearable level because of UV protection. This also helps to maintain the colour of the grass so that the sun's rays won't cause colour bleeding.
Autumn:
In the autumn, falling leaves can be a nuisance, but they can be easily managed by just being physically removed from the surface of your putting green.
Winter:
The winter's heavy snowfalls may accumulate on your putting green, but that's no reason to worry. If your snow melts and you find that your turf is looking a little flat, it can easily be fluffed up and brought back to life with a light plastic rake.
Spring:
As heavy or consistent rainfall occurs and even snow begins to melt, the excess water should drain through your artificial grass like natural grass.
At Echoing Green, our artificial turf is designed to facilitate exceptional drainage, so water won't back up and pool on the surface of your turf. Because there is no topsoil needed for artificial turf, the ground where your putting green is located will be less likely to get muddy too.
Will Weeds Grow?
Your backyard turf should be installed with a weed barrier that separates the turf from the dirt. This will stop the infiltration of weeds in neighbouring natural lawns from penetrating the surface of your putting green so you can maintain a perfect blemish-free artificial grass putting green.
If you're ready to install a custom putting green in your backyard or replace your natural lawn with premium artificial grass, call Echoing Green today at 647-494-4883 or send us a message.