6 Ways You Didn't Realize Artificial Grass Could Be Used In Your Backyard!
Residential turf is most often used as an easy alternative to natural grass lawns and yards. Because of its low maintenance requirements, artificial grass is a cost-effective choice that makes life easier for homeowners. What many people don't realize is the many other ways artificial grass for backyards can be used. You can go beyond just eliminating weeds, mowing, and watering. When you install artificial grass for your backyard, the possibilities are truly endless.
Here are 6 creative and functional ways to leverage high-quality synthetic turf from Echoing Green in your backyard.
Carpets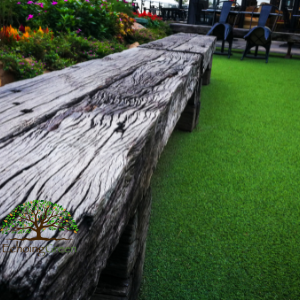 Artificial grass is designed to facilitate drainage and sit out in the sun without heating up, making it perfect for deck, balcony, or patio carpets. These synthetic carpets are a great way to create a cozy space with a vibrant pop of colour. It's easy to walk barefoot on a grass carpet, unlike concrete or wood that might get too hot to touch during the summer afternoons.
Table Runners
It may seem unconventional, but that's half the fun. Turn extra residential turf into a stand-out table runner that takes your tablescape to the next level. Artificial grass table runners are perfect for at-home events and backyard entertaining as it really lends themselves to both rustic and modern garden themes.
Outdoor Seating
If you have stones or wooden benches in your yard, artificial grass can be used to make them softer or even blend in with your natural grass for a cohesive appearance. Artificial grass from Echoing Green is installed with thick premium underpadding to provide a more comfortable sitting or lounging experience. The great thing is that artificial grass contains no dirt, so you won't have to worry about getting grass stains or dirty clothes when you sit on it.
Pathways
One of the worst things that can happen to a beautiful concrete or stone walkway is when weeds slip through the crevices. Artificial grass for backyard pathways works against weeds as barriers suppress the hard to control pests, keeping your landscaping clean.
Swimming Pool Landscaping
If you have a swimming pool in your backyard, residential turf can be installed to not only elevate your landscaping but to create a safe non-slip surface. At Echoing Green, our exclusive European-made artificial grass enables superior drainage to keep water flowing away from the surface, making for safer swimming. Artificial grass for backyard pools resists damage from sun exposure and harsh pool chemicals like chlorine or even saltwater, so you can maintain a beautiful outdoor atmosphere without worrying about it.
Sound Barriers & Privacy Barriers
Whether you're having a party with friends or spending some time alone in your backyard, a privacy and sound barrier can help you and your neighbours feel more comfortable. Hanging residential turf on your fences prevents onlookers from being able to peer into your backyard. And in the case of parties or get-togethers, soundproofing qualities of artificial grass will minimize noise and keep private conversations from being overheard.
Explore the possibilities of artificial grass with the team of experts at Echoing Green.
Fill out our online form to get started today!