6 Things You Need to Optimize Artificial Grass Installation 
The reason so many homeowners flock to residential turf is that it's easy. Artificial grass for backyards means no more watering, costly fertilization, tedious weed removal, or even tiring lawn mowing. On top of all of these practical benefits, you can extend the lifespan of your artificial grass with proper installation. By replacing your natural lawn with a high-quality synthetic alternative, you will be revelling in the benefits for years to come.
Here are 6 things you can leverage to optimize your Artificial Grass Installation.
Weed Barriers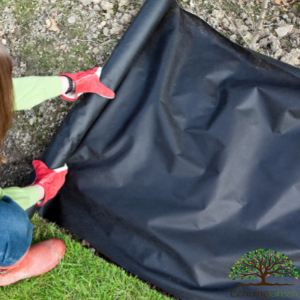 No one wants to invest time and money into pulling and spraying their lawns - in a time-consuming effort to eliminate weeds. So, when you install residential turf, that last thing you want is to see any weeds pop up and obstruct your perfectly pristine green lawn. That's why a weed barrier is an essential step in installing artificial grass for backyards and front lawns. They suppress any weeds from neighbouring yards and gardens that threaten to infest pristine grass. When installing your weed barrier, they must be laid smoothly to prevent the turf from bubbling or bending. If you're having trouble, it's best to get help from an expert. The Echoing Green team will be there for you to ensure your synthetic turf is installed to blend seamlessly with natural grass.
Spikes
Spikes are a vital part of laying artificial grass for backyards successfully. When installed correctly, spikes fasten pieces of turf to the ground and to each other. Ensure you use enough spikes and that the artificial grass is secured. This is essential for residential turf. If the grass is not secured down, it will begin to lift too soon, impacting its durability and resistance to damage. You can order your spikes directly from Echoing Green when purchasing your artificial grass. Or, you can book installation services from the experts now at Echoing Green.
Staples
While spikes are used to secure the interior of residential turf down, special staples are used to fasten the ends of artificial grass for backyards. You can find staples for artificial grass installation online from Echoing Green. Staples are also one of many ways you can secure the seams of your turf during installation. The addition of staples helps improve the durability of artificial grass for backyards.
Seam Tape
Seam tape enables artificial grass to be mended together to give the appearance of a perfect natural lawn. Seam tape prevents onlookers from being able to distinguish one roll of turf from the other. Heavy-duty, non-porous is the best choice for outdoor artificial grass applications, as it is best equipped to deter weather damage and resist wear and tear over time. With Canada's fluctuating weather conditions, this is really important for maximizing the lifespan of turf. Waterproof and good tensile strength makes seam tape means from Echoing Green minimizes the potential for wear: perfect choice for any backyard installation in the GTA.
Infill
Infill is one of the most important steps when installing artificial grass. Not only does it hold turf down, but it also keeps individual blades of grass up and voluminous to replicate the sensation of natural grass. High-quality infills like TCool and Envirofill are eco-friendly, cost-effective, and antimicrobial. You can also better regulate the temperature of turf with good infill, even after extended sun exposure.
Installation Team
While it is possible to DIY your artificial grass installation, the best results are essentially guaranteed with a professional and experienced turf installation team. Hiring an expert ensures that residential turf is laid smoothly, well-draining, and effectively secured.
For premium European artificial grass and expert installation, count on the trusted Echoing Green team.
Contact us today to book your artificial grass installation.