4 Fall Care Tips for Artificial Grass in Toronto
When it comes to artificial grass in Toronto, the beauty is its low maintenance nature. You don't have to worry about whether artificial grass for backyards will grow too long, stay green enough, or last through the winter. Artificial turf from Echoing Green lasts years, requiring no watering, fertilizing or mowing to meet your most rigid standards. However, sometimes there are external elements that can interfere with your lawn. During the Fall, there are some things you can do to extend the lifespan of your backyard turf. Luckily, with artificial grass, a little TLC will keep your grass in excellent condition.
Remove Leaves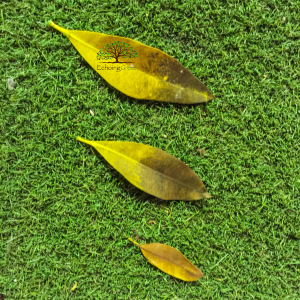 As they're shed from towering trees nearby, artificial glass below will collect leaves. While the colours are beautiful and fun to jump into, it's best to regularly remove leaves accumulating on your turf. If not, these leaves can cause some minor annoyances in your backyard.
Moisture from frost in combination with organic matter like leaves or rotting fruit can cause mold or mildew to start to grow in your backyard. While artificial grass in Toronto from Echoing Green is inherently mould-resistant, particularly in comparison to natural grass, organic matter is always susceptible to mold, especially when paired with moisture.
Wash Away Dust
Allergens that exist naturally through the wind like dust, ragweeds, and other irritants can settle on artificial grass in Toronto like any other surface. This can become frustrating for those wanting to go outside but are stopped by fits of sneezing, sinus pains, and general discomfort that comes with seasonal allergies. To keep artificial grass for your backyard functional and comfortable, it's beneficial to wash your turf every so often to remove dust. Luckily, rain in Toronto during the Fall is typically plentiful. As such, it's a good water source for effortlessly washing artificial grass. You'll just have to break out the hose after extended periods of dry weather. At Echoing Green, our artificial grass is designed to strategically drain the most bountiful rainfalls to prevent water backups or unpleasant pooling.
Scrape Off Sticky Tree Saps
Many people love the changing colours of the Fall, but with that comes the frustration of tree sap. Pruning trees drip sap from their bark which, if they're in your yard or a nearby yard, can end up falling onto your otherwise pristine artificial turf backyard. To avoid problems with sticky sap and synthetic turf in Toronto, Echoing Green recommends installation your turf away from these trees whenever possible. However, that isn't always a viable option. Tree sap can be removed from artificial turf with a freezing agent. Refrigerants used for carpet cleaning or dry ice freezes any sap, which can then be scraped off easily with a knife.
Cross-Brush Your Flat Fibres
Did you host get togethers, engage in outdoor activities, or accessorize your backyard artificial grass with the perfect patio furniture? You may encounter fibres of your turf that look flat or mattified after periods of high traffic. This is totally normal and be fixed instantly with a bit of brushing. Rejuvenate your synthetic turf by gently brushing against the grain, and the grass fibres will perk up looking full and fluffy. By using a broom, you will preserve your turf even longer.
When it comes to artificial turf from Echoing Green, keeping your home looking its best is easy.
Contact Echoing Green today to learn more about artificial grass for your backyard.