4 Benefits of Rooftop Deck Artificial Grass
It's no surprise as to why many homeowners are making the switch to artificial grass in Toronto. With little to no outdoor maintenance, beautiful greenery all year long, amongst many other benefits, backyard landscaping isn't the only use of artificial grass. Artificial grass across Toronto has recently taken on a new meaning. Whether it's for an indoor playroom, an accent wall in your kitchen, or even artificial grass for decks and rooftops, the options are truly endless. With artificial grass in Toronto, you can take a rooftop deck and turn it into your own oasis and enjoy all the benefits it has to offer. Read on to learn more about artificial grass for patios and rooftops.
The Uses of Artificial Grass for Rooftops & Decks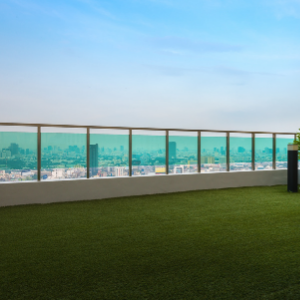 You may be wondering, why would you install artificial grass on your rooftop or deck? We're here to tell you there are many reasons. Besides turning your terrace, balcony or rooftop into an outdoor oasis, you can also install an outdoor putting green or even a little picnic area. If you live in an apartment or condo or anywhere in the city, for that matter, where there is limited yard and outdoor space. Artificial turf can help create a space to walk out onto that doesn't feel like any typical balcony or rooftop. You can create an entire "backyard" landscape right on your rooftop or deck.
If you have a large enough rooftop, people enjoy creating a specific corner or space that's the designated hangout.
Instead of a carpet or rug, artificial grass on rooftops and decks can give off the homey feeling that you didn't realize you were missing.
The Benefits of Artificial Grass for Rooftops & Decks
Besides the obvious aesthetic reasons for installing artificial grass on your rooftop, there are many practical benefits as well.
Decreased Roof Maintenance:
While rooftop patios are often sought after because of their cool aesthetic, opportunities for entertaining and a place to hang out above the city, they often come with challenges. In the wintertime, snow and ice can build off, causing havoc on your outdoor space. Rooftop turf can keep snow and ice off the rooftop and provide a safer space for use.
Increases the Value of Your Home:
Not only does rooftop artificial grass provide a more appealing and attractive look to your home, but it can also increase the value. It helps transform a simple space into something spectacular.
A Perfect Roof All Year Long:
Regardless of Toronto's changes in season, artificial grass will never fade, discolour or get ruined from snow, rain or sun. Its extremely durable materials will last a long time! Our artificial turf also offers a drainage system, meaning you will never see puddles or build-ups of water over time.
Added Insulation:
With adding a thicker barrier to the roof of your home, it can act as natural insulation, making your home or business more energy-efficient in the long run.
Great for Pets:
If you have a dog or any other pet that needs to go outside to use the bathroom, then artificial grass on your rooftop or deck is perfect for you. Because it looks and feels like real grass, your pet will know to use it as their bathroom instead of always having to make your way down to let them outside. With a drainage system, you can simply hose down the area or spot where your dog went to the washroom to ensure it gets washed out.

Artificial Grass in Toronto With Echoing Green

Ready to create your new rooftop or deck oasis? For all things, artificial grass in Toronto, contact the experts at Echoing Green. With many years of experience in installing artificial grass, we guarantee customer satisfaction with a 10-year warranty. Our European-grade product is of the highest quality, allowing it to last for many years to come. Not sure which direction you want to go in? Our team of professionals will not only install your turf, but they will help you come to a sound decision and give the best advice based on your space. For more information, you can visit us online or give us a call for more details.