Train Your Dog To Use Pet Turf in Just 4 Steps
Specially designed artificial pet turf in Toronto is great for dogs, cats, and pet owners alike for many reasons. Artificial grass for dogs and cats is a smart alternative to natural grass for the thousands of pet owners living in condos or multi-family homes, as it can be installed easily onto balconies, pavement, and small spaces. The many benefits of artificial grass make it perfect for pets all year long. At Echoing Green, our selection of artificial grass in Toronto are non-toxic and manufactured exclusively without any harsh or dangerous chemicals.
Our artificial grass for dogs replicates the look and feel of natural grass, so training your pup will be a breeze. Get your dog accustomed to pet turf in Toronto in these four simple steps.
Pick a Good Spot for You and Your Dog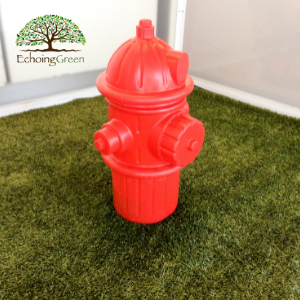 While your dog will be the one using pet turf, it's crucial to pick a spot to install artificial grass that works for both your pet and you, especially when installing turf indoors or on a balcony. Whenever possible, choose an area with a hard surface that's easy to clean up. Once you pick a spot, it's best not to move your artificial turf potty pad around because it might confuse your dog. So take the time before installation to determine where works best for you.
Walks & Rewards
Every half hour or so, walk your dog with their leash to your artificial grass pad whether they act like nature is calling or not. When they do use the pet turf, reward your pet with a treat and praise them for positive conditioning. Training your pet to use artificial grass indoors or balconies as a potty pad is similar to training a dog to go outdoors, and the convenience, especially for condo-dwellers, is unbeatable.
Try it Without a Leash
Once your dog has used their artificial grass a few times on a leash with your supervision, you can remove the leash. Carefully monitor your pets to see if they try to use the artificial grass to go or if they try to go elsewhere. If they don't gravitate towards the synthetic turf, continue to guide your dog to the artificial pet grass with their leash on until you feel comfortable removing it again.
Reward Some More
The first few times pets get the hand of using artificial grass leash-free under supervision, you should reward the pup some more, once again with treats, praise, belly rubs, and love.
Training pets to use artificial grass is a simple process that is viable year-round, even outdoors year. Artificial grass in Toronto is weather-resistant and durable, so even if you install it on your balcony, the turf will remain lush, green, and soft for years. Typically, nature calls dogs about every 20 to 30 minutes. With artificial grass for dogs available in your condo or house, you won't have to brave the cold, rain, or stairs a million times every day just so your dog can go potty.
Contact Echoing Green or shop online to order high-quality artificial grass in Toronto for your dog today!