Is Artificial Grass Pet Friendly?
When it comes to purchasing artificial grass in Toronto, some people are worried about their pets using their new lawn. The good news is that artificial turf is suitable for pets. Many homeowners actually choose to purchase synthetic grass to help them avoid the common grass problems of pet owners. Pet turf can help you maintain a beautiful, lush lawn year-round without worrying about pets trampling or killing your grass. An excellent solution for families, artificial grass in Toronto can help you take pride in your yard without compromising its functionality.
Comfort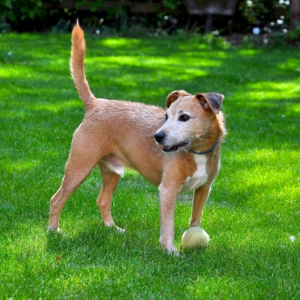 Just like traditional grass, pet turf creates a comfortable lawn that can be used by your pets and family. An artificial lawn is perfect for pets and kids to play sports and yard games without worrying about destroying grass or wrecking the yard. With minimal maintenance, your new artificial grass in Toronto will allow you and your family to spend more time enjoying your yard rather than fussing over the grass and garden.
Safety
Unlike a traditional lawn, pet turf does not require chemicals, pesticides, or fertilizers. Your new lawn will not grow weeds or require chemical treatment that can be dangerous to pets and children. With artificial grass, your family can enjoy your lawn year-round without worrying about exposure to hazardous chemicals.
Cleanliness
Traditional lawns can be difficult to keep clean, and pet feces and urine can cause discolouration and staining of the grass. With artificial grass in Toronto, urine naturally drains through the turf, and feces can be easily picked up. Then you can hose down the area or even use soap and water to keep your lawn clean and safe for the rest of your family. Your pet can also use your lawn for their business without killing or staining your grass, helping to maintain your curb appeal.
Curb Appeal
When it comes to curb appeal, many homeowners want to maintain a lush, green lawn. However, with changing weather, pets, and children, it can seem impossible to maintain a beautiful lawn. With pet turf, you and your family can continue to use your lawn without worrying about destroying your grass. Artificial turf is resistant to fading and staining and remains lush and green year-round. Functional, beautiful grass is just a step away with the help of an artificial turf company.
At Echoing Green, we install artificial turf products in homes and backyards across the Greater Toronto Area. An artificial lawn requires minimal maintenance while guaranteeing a year-round, lush plot of grass to uphold your curb appeal. Families and pets love the functionality of pet turf, and homeowners are raving about its durability. At Echoing Green, all our products meet the rigorous standards of European artificial grass. By calling us at 647-494-4883, you and your family can invest in your curb appeal with a functional and durable artificial lawn. Your children and pets will thank you for a yard that they can use without worrying about wrecking your grass and gardening.