Your Guide to Artificial Turf Cleaning
Artificial grass installation is a simple and effective way to elevate the landscaping experience. Minimizing manual labour significantly, artificial grass in Toronto unlocks a whole new array of possibilities for exterior and interior design. The upgraded surface can be used in a number of applications and for a number of people, including pets, kids, business owners, and more. The ease and simplicity of artificial grass is one of its most attractive features for residential and commercial property owners. To maintain the pristine condition and lush feel of your artificial grass installation, Echoing Green also offers expert turf cleaning and maintenance services.
Read on for a simple and practical guide to artificial turf cleaning with Echoing Green.
Remove Debris from Turf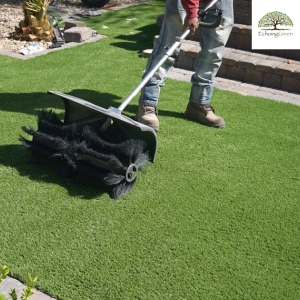 Following installation, artificial turf is exposed to the environment and the natural debris that results from it. High-quality artificial grass in Toronto, provided by Echoing Green, is designed to maximize durability, minimizing the impact or interference from debris such as leaves, twigs, and rocks. Despite being equipped to facilitate drainage, excess debris compacted at the base of artificial grass can interfere with drainage capabilities. Professional turf maintenance services will effectively de-compact artificial grass in backyards and other outdoor spaces removing interferences in the drainage system while maintaining the structural integrity of the turf and any infill in place.
Identify Stains & Odours
Whether it's outdoors or you've opted for indoor artificial grass installation, spills and messes on the surface of turf should be addressed promptly. While most surface spills can be cleaned with the wipe of a damp cloth. Messier or smellier situations may require some additional turf cleaning. At Echoing Green, our teams have engineered an exceptional turf cleaning product, Echo Fresh, perfect for pet owners seeking to eliminate malodours. The industry-leading product is designed to digest and liquefy odour-inducing bacteria, removing unwanted remnants of pet waste and other contaminants. When you book artificial grass maintenance with Echoing Green, you can also enhance your artificial turf with the cleaning effects of Echo Fresh and the inviting aroma of freshly cut grass.
Upgrade Your Infill
At Echoing Green, we firmly understand the importance of infill in artificial grass installation. That's why we use only the best in our landscaping projects. After a few seasons with artificial grass, our team of experts recommends topping up your infill with a high-quality option like TºCool. When you opt for turf cleaning services with our teams, you can upgrade to include an infill top-up to your service. The all-natural additive will significantly increase and prolong the performance of your artificial grass in Toronto. Equipped with BacShield technology that prevents the onset of bacteria colonies, and supports water drainage, be it the result of rain or washing. With more infill, you can minimize the potential for damage to your artificial grass and enhance its look and feel. To learn more about infill upgrades, contact Echoing Green directly.
Toronto Artificial Grass Cleaning with Echoing Green
If you're looking to keep your turf sparkling and clean, it's easier than ever with Echoing Green. Our selection of artificial grass for backyards, interior spaces, and custom landscaping is designed to maintain its lustre and performance with minimal input. Using our top-of-the-line products and exceptional cleaning and maintenance services, you can get decades out of your artificial grass installation.