Why Use Artificial Grass for Playgrounds & Recreation?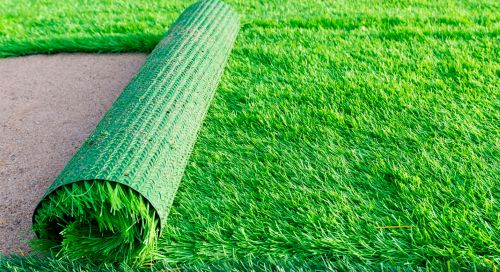 With the weather getting warmer, the excitement toward playing outside has increased for both children and their parents. There's nothing better than being outdoors in the fresh air playing in a clean and child-safe environment. But that's the common issue many parents may face - are all playgrounds and recreation areas child-proof? That's where artificial grass comes in. If you're looking for reasons why you should use artificial grass in Toronto for playgrounds & recreation read more here:
Soft, Compliant Artificial Turf
Did you know public playgrounds must meet certain requirements in order to be used? One of these requirements is minimizing the risk of injuries in playgrounds or recreation areas. Using artificial grass to cover the ground under a school playground turf is the perfect way to help prevent injuries. With the natural look of real grass, it offers a cushiony spring to absorb the shock from any fall. As well, we always install our Playlite underpad that offers a thicker base to help mitigate serious injuries.
No More Scraped Knees!
What's worse than falling off a jungle gym, is a child running or jumping and falling resulting in scraped knees and bruises. By covering recreation and playground areas with artificial grass installation, you can actually prevent badly scarped or bruised knees as it creates a soft and durable fall-space. Not to mention kids enjoying rolling around on the artificial turf without remorse to their skin or clothes.
Cleaner Play Environment
There's nothing worse than children playing outside all day and coming home with muddy and dirty clothes. Artificial grass can help limit those issues by enabling children to run around and play rough without any repercussions! You can also cut down on grass or dirt stains on clothing as artificial grass doesn't stain. Better yet, bring your dogs to the playground without having to worry about them getting dirty either.
Reduced Maintenance Work
Regardless of the many benefits of artificial grass for children, there are also other reasons why you should use artificial grass for playgrounds and recreation areas. Its low maintenance work is perfect for maintaining public areas. You no longer will have to worry about mowing the lawn, watering, or weeding the area. As well, with reduced maintenance work, comes lower maintenance costs.
Toronto Artificial Grass Installation
EchoingGreen's synthetic grass is the ideal play area for children. It's a clean, safe cushioned area that is absent of allergens, mud, and unwanted pests. With artificial turf, there's no worry about chemical use: no fertilizers, weed killers or pesticides! It's perfect for everyone to enjoy.
Not only is artificial grass an ideal solution that lasts 15-20 years, but our grass offers an aesthetically pleasing solution to high traffic areas like schools, community play areas, and other communal spaces. Contact us today to install artificial grass in your space at 647-494-4883.