Why Swimming Pools & Artificial Grass Are the Perfect Combo
This summer, increase the versatility of your backyard with artificial grass. Artificial grass from Echoing Green can be used for various things, such as putting greens, outdoor gyms, or as attractive landscaping around your swimming pool. Keeping the area around your swimming pool clean may seem challenging, especially with weeds and dirt. However, artificial grass provides a solution to that. Artificial grass maintenance is virtually non-existent, so the landscaping around your pool is clean, tidy, and safe. For luxury artificial grass in Toronto and seamless artificial grass installation around your pool, visit Echoing Green.
Here's why you should landscape your swimming pool with artificial grass.
Increase Pool Safety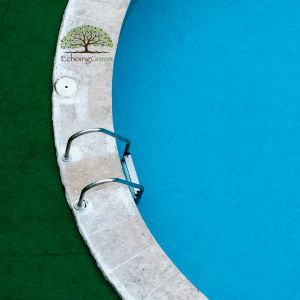 Natural grass and concrete slabs can be slippery and a fall hazard around your swimming pool. Artificial grass, however, eliminates that problem. Artificial grass in Toronto from Echoing Green offers excellent drainage, so water won't pool and create a slippery surface. And, with our thick backing, infill, and densely packed synthetic fibres, there's plenty of shock absorption if a fall does occur.
Keep Your Pool Area Clean and Low Maintenance
If you'd like to keep your pool area low maintenance and clean, then you'll love artificial grass. Artificial grass maintenance is minimal; it merely involves sweeping off dirt and debris. You'll no longer need to stress about your furry friends bringing in mud or rogue weeds popping up around your pristine swimming pool. Even better, you won't even have to think about mowing. Sometimes with natural grass, it feels like the grass clippings never go away, especially around swimming pools. By undergoing artificial grass installation, your backyard, and swimming pool will be easily maintained.
No Toxins, Chemicals, or Bacteria
With natural grass, using pesticides and herbicides is common. However, if natural grass is around a swimming pool, and there's frequent use of pesticides, there's the risk of these chemicals getting into the water. This may create numerous health risks for you and your family. Additionally, without the presence of organic materials, like weeds or dirt, there won't be any harmful bacteria or contaminants like mold and mildew.
Match Your Backyard Aesthetic
Is your swimming pool a unique shape? Sometimes, landscaping with cement pavers can be challenging with swimming pools, especially if the design is curved. Artificial grass, though, can fit around any swimming pool with ease. At Echoing Green, you're able to completely customize turf based on the aesthetic of your yard and the shape of your swimming pool.
Have Long-Lasting and Durable Landscaping
Natural lawns are often burned by the chemicals in swimming pools. Artificial turf, however, won't be affected or discolored by the chlorine in pools. The water will quickly drain, leaving your turf dry and the color vibrant. Additionally, synthetic turf from Echoing Green is UV protected, so the color won't fade, even during the hot Toronto summers.
Choose the Best Turf for Your Pool Area
When choosing the best synthetic turf for your pool area, consider a few factors: shape, pile height, and pile density. For comfortable and plush grass, make sure you have a high pile density. For grasses that are more resistant to wear and tear and high foot traffic, consider short pile heights. To learn more about what turf is best for you and your swimming pool, visit Echoing Green.