Why Pets Won't Ruin Artificial Turf in Toronto?
Artificial turf in Toronto is usually chosen by homeowners who want their property to be enhanced by a perfect, pristine lawn that natural grass can't offer them. One of the most enticing benefits of synthetic turf from Echoing is that it requires zero maintenance to stay green or lush. Pet owners who want to capture this idea of lawn perfection are often concerned about whether artificial grass for dogs is less resilient.
Artificial grass in Toronto from Echoing Green is engineered for durability. We offer pet turf, specially designed artificial grass for dogs that allow pet owners to access the same great benefits of synthetic grass as everyone else in the city.
Read on to learn more about how artificial grass is equipped for dogs.
No Mud or Digging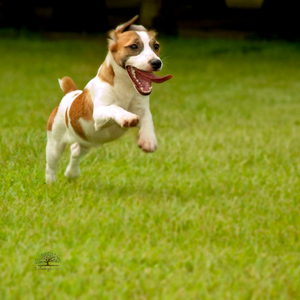 It's not surprising to pet owners that dogs love to dig into their lawns. On rainy or snowy days in Toronto, this can be even more of a problem. Not only do they leave messy and muddy paw prints around the backyard and inside, but they leave behind patches and holes in the natural grass lawns that are often unsightly.
On the other hand, artificial turf in Toronto is typically installed without topsoil or dirt just beneath it, which leaves dogs less tempted to dig. The sturdy and durable backing of artificial grass for dogs resists pressure, pulling, and tugging.
Pet Odours
If you're looking to install residential turf across your entire property or at least do a complete backyard replacement, then there is the concern about where pets should go potty. While artificial grass is easy to clean, wash, and sanitize, you can install a different type of artificial grass for dogs to designate as a potty pad. Either way, easy sanitization tools and turf from Echoing Green equipped for adequate drainage make cleaning artificial turf in Toronto a breeze. You can also find an artificial grass disinfectant solution that helps to keep pet turf clean and bacteria-free. AquaKlor is available from Echoing Green in our online store!
Raised Edges
Residential turf is installed in rolls, meaning that to replace an entire lawn, each section of turf needs to be connected to the next. Some pet owners inquiring about residential turf worry that their pets will list the corners and edges of synthetic lawns. While this concern is totally understandable, with proper artificial grass installation, it should not be a problem. There are many fasteners that are used to secure the seams of each cut of turf to each other and the perimeter of the lawn, including nails, tape, staples, and more. These secure fasteners, when installed by an artificial grass expert, cannot be broken or detached.
Artificial Grass for Dogs
If you're worried about your dog and synthetic turf, consider that there are many benefits to dogs. Pet turf and all artificial grass from Echoing Green are non-toxic, flea-resistant, and bacteria-resistant. So, for many pets and people, artificial grass is a solution to natural grass.
Call us today to learn more about artificial grass for your home and your pets.