Why Parents Love Indoor Playground Turf
While many people benefit directly from artificial grass in Toronto, especially property owners, the advantages that turf for backyards and indoor playground turf offers parents are often overlooked. Traditional backyard playground setups inherently involve variables that are difficult for even the most attentive parent to manage, just by being outdoors. So, when artificial grass is used instead, parents are able to efficiently eliminate these unwanted consequences of the outdoors and live on lawns with artificial grass in Toronto.
Here are 5 Reasons Why Parents Benefit from artificial turf play areas.
Less Maintenance; More Family Time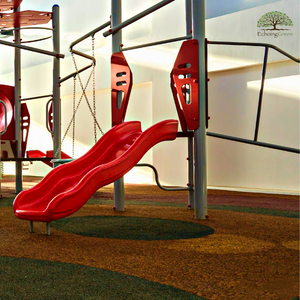 The maintenance-free artificial grass experience is one of the most discussed benefits of installing artificial grass in Toronto. But what does that mean? When synthetic turf is used as flooring for landscaping or as indoor playground turf, the lack of regular maintenance saves a significant amount of time and money. With increased time available to share with kids, families have more time to bond and connect.
Injury-Resistant Installation
Kids deserve to play with minimal risk of getting hurt. While sometimes nicks and bruises are inevitable, the ability to create an environment conducive to safe play is ideal for parents who would like to worry less about the well-being of their children. Indoor playground turf or artificial grass for backyards from Echoing Green are durably built with polyurethane backings and installed with a thick, shock-absorbing underlay that softens the blow of high-impact falls.
Reduce Illnesses
Bacteria, mosquitos, and mold are just some contaminants that often find themselves attracted to live grass lawns. Dark and humid environments facilitate bacterial and fungal growth as well as insect nesting. All of these can make anyone who comes into contact sick. In most cases, symptoms range from minor to moderate, but sometimes the outcome is severe. When artificial grass in Toronto is installed, the conditions that lead to these contaminants thriving are eliminated. At Echoing Green, we use TºCool Infill during artificial grass installation, which is equipped with advanced Microban technology. Our exclusive, high-performance turf is also designed to wick water away efficiently, preventing mold, bacteria, and insects from multiplying.
Fun Custom Artificial Grass Colours
If you're building a playroom for your kids, artificial grass provides more opportunities for customization than live grass. At Echoing Green, we offer custom synthetic turf options so parents can select indoor playground turf that suits their nursery or playroom themes. You can also have the opportunity to order turf with branded logos, crests, and words like your kids' names or a fun quote.
Less Mess is Always Best
There are so many ways kids get dirty already. Artificial grass in Toronto eliminates one opportunity. When playing outside, grass and mud stains from natural lawns are virtually impossible to avoid. But with artificial grass installations, that all changes. Artificial turf from Echoing Green is UV protected, preventing colour bleeding. It's also installed without any topsoil and durable enough to prevent digging, meaning kids can play without getting mixed up in the dirt. And parents can save themselves some laundry.
Get Started With Echoing Green
If you think artificial grass in Toronto may be suitable for an indoor or outdoor application in your home, the team at Echoing Green is happy to provide any more information you might need.