Why Opt for Landscaping Turf Around Your Pool?
With summer fast approaching, it's the perfect time to explore how you can upgrade your backyard for maximum enjoyment. If you're considering installing a swimming pool or you already have a backyard swimming pool, then artificial grass landscaping could be the addition you need to give your yard an extra something special. The benefits of artificial landscaping turf are not limited to its visual appeal. Artificial grass in Toronto goes beyond aesthetics, offering many functional benefits to homeowners across the city.
Here are some reasons you should consider artificial grass landscaping around your backyard swimming pool!
Landscaping Turf Saves Time on Pool Maintenance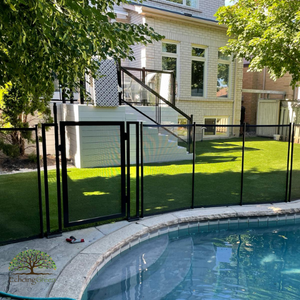 If you have a swimming pool, you know how much time goes into caring for it - balancing the water, cleaning the surface, covering and uncovering. There's a lot to do when it comes to swimming pool maintenance to keep it healthy and clean. With artificial grass landscaping, you can cut down the time and energy spent on upkeep. While you won't be able to eliminate it completely, artificial grass helps to prevent common contaminants that infiltrate pools, clog filters, and ruin water chemistry.
Weeds & Artificial Grass
Artificial grass installation from Echoing Green is done strategically to completely minimize the potential for weeds in your turf. Weed barriers and topsoil are removed, ensuring your landscaping turf goes weed-free even at the height of the summer. This means that pollen, stray leaves, and other plant debris are less likely to find their way into your swimming pool water or filters, saving you time that would be spent skimming your pool or unclogging filters.
Pests & Landscaping Turf
Insects emerge in large numbers as spring progresses toward summer. They nest in the depths of natural grass and find their way into swimming pools, where they contaminate the water and the filters. Eventually, the intrusion of mosquitoes and other pests offset the water chemistry, leaving you to spend a significant amount of time and money on pool chemicals and testers. With artificial grass landscaping around your backyard swimming pool, you can reduce the swarms of insects that are attracted to grass and water. Since artificial grass in Toronto efficiently drains water and is installed with no organic materials, most pesky insects will not find the area attractive to nest. As a result, fewer mosquitoes will be attracted to your backyard and more fun.
No Muddy Slips & Falls
It's virtually impossible to stop water from splashing outside of your swimming pool into the surrounding landscaping turf. When natural grass or hardscaping is bordering your pool, excess water can be messy, muddy, and hazardous. On the other hand, artificial grass landscaping from Echoing Green makes for a safer "no-fall zone" by enabling water to drain quickly and efficiently through the permeable backing of the turf into the ground and away from the surface.
Additionally, artificial grass can be installed with a shock-absorbing underpadding that minimizes the impacts of falls for safer play in and around your swimming pool without compromising the performance of the landscaping turf.
Long-Lasting Landscaping Solutions
Echoing Green's high-performance artificial grass is engineered to offer durability and longevity for decades. Unlike paving stones, concrete, or natural grass, when installing artificial landscaping turf around your property, you can be assured that you won't need to invest in a replacement for many years.