Why is Artificial Turf Perfect for Your Pool?
When you build a swimming pool in your backyard, you create a focal point for your home and a personal oasis to enjoy with family and friends. Installing synthetic residential turf around your swimming pool can enhance your entire experience and help adorn your backyard centrepiece. In addition to its adding aesthetic appeal, swimming pools with artificial grass borders have practical benefits too. Read on to learn how artificial grass can enhance your swimming pool landscaping.
Drainage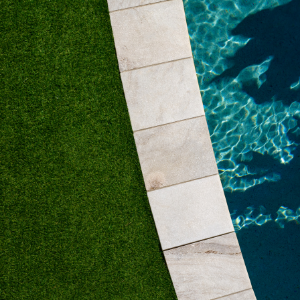 As you fill, drain, clean, or simply just enjoy your swimming pool, water will inevitably splash, landing on the surrounding areas of your pool. If left unchecked, still water can attract bacteria that can result in the growth of mold, mildew or other contaminants that you definitely don't want around your lawn, family, or your pool.
Installing high-quality artificial grass in Toronto facilitates drainage, so water isn't left stagnant. During the city's unpredictable weather fluctuations, artificial turf around your backyard swimming pool will also help to divert and drain rainwater and melting snow or ice away from your pool.
UV & Heat Protection
Unknowingly stepping onto concrete or stone barefoot when getting in and out of a pool can be excruciating. Installing artificial grass in Toronto around your pool creates a temperature-regulated zone that facilitates movement to and from your pool without feeling the heat. Echoing Green's artificial grass is protected from UV rays to prevent colour fading and to prevent the grass from getting too hot. We also install our synthetic grass using premium infill that also works to keep artificial grass cool even during extended exposure to heat.
Safety
Splashing, playing, and caring for pools inevitably results in water displacement around your backyard. If stone or concrete is surrounding the entryways of your pool, the ground can get slippery and become a falling hazard. Slipping on stone, concrete, and brick can result in bruising, scapes, and cuts or even more severe industry especially if someone unexpectedly falls into the swimming pool.
When artificial turf is installed around a pool, it creates softer padding for entering and exiting the pool minimizing the potential dangers of a slippery surface. If a fall occurs, the cushioned surface helps to avoid more serious injuries like concussions. At Echoing Green, our artificial grass is permeable which enables effective drainage, so grass water will quickly dissipate, creating a safer environment and reduce danger in your backyard.
Low Maintenance
A swimming pool requires enough maintenance as it is. When you install artificial grass around your pool, you won't have to invest time and energy into upkeep. Synthetic grass accents for your backyard pool will effortlessly stay lush and green for years: no mowing, watering, or fertilizing, just enjoying.
Versatile Artificial Grass Installation
Artificial grass is a soft surface that can be installed around your pool, enhancing creativity and versatility in your yard. You can lay lawn chairs, patio furniture, do poolside barbeques, and so much more on your lawn. You're not restricted to one layout when you use artificial grass. Unlike natural lawns, you won't risk bald spots to your grass, thinning, or dead grass.
Call Echoing Green at 647-494-4883 or email us to see how your backyard can benefit from premium artificial grass.