Why Install Pet Turf on Decks
Besides giving you a beautiful lawn, artificial turf in Toronto can thrive in a multitude of applications due its many benefits. No matter what types of deck – patios, pool decks, apartment/condo balconies, or rooftops, pet turf is highly durable and multi-functional, making it a great choice for comfort, safety, and visual enhancement in outdoor and indoor environments frequented by your pets.
At Echoing Green, we supply and install artificial turf in Toronto that is durable enough for even the biggest dogs, saving you the stress, time, and money of traditional grass.
Read on to learn the benefits of installing pet turf on decks.
Benefits of Installing Pet Turf on Decks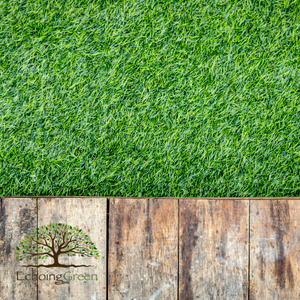 There are many benefits of installing pet turf on decks, including the appearance it gives, the functionality, and safety reasons. Artificial turf in Toronto is great for those with families, children, and pets, as synthetic turf is strong enough to handle high-traffic movement and sharp paws.
Worn-Out Deck: If your deck is worn out, discoloured, or simply needs work done to restore its appearance, choose artificial grass for decking to transform your outdoor space into a beautiful oasis. Outdated or older decks no longer need to be remodeled or painted; instead, choose artificial grass to transform your patio into something extraordinary.
Great for Pets: If you're someone who lives in a condo or apartment and you struggle with taking your pet outside, artificial grass for your deck is perfect for you. Installing pet turf is an excellent option for busy pet owners as it's easy to maintain and extremely convenient.
Enhance the Look of Your Deck: If your deck looks rough and needs an upgrade, install Echoing Green's pet turf to revamp your deck into a gorgeous masterpiece. Remodels are easy when you have the team of professionals at Echoing Green installing your turf.
Safe and Non-Toxic: Turf for pets is ideal for dog owners as it's completely safe and non-toxic, so you can be assured your pet is healthy. Echoing Green offers complete installations by our highly experienced technicians, so you and your pets can comfortably walk on your deck as soon as possible.
No Staining: Worried about your pet staining the deck with urine or feces? With Echoing Green's artificial turf, you can let go of those concerns. Simply rinse with a hose or cleanse with AquaKlor to remove bacteria, odours, stains, and contaminants.
Durable & Sufficient Drainage: Artificial turf for dogs keeps the fibres in place with solid tuft-lock and enhanced polyurethane backing. The turf's durability prohibits tugging, digging, and pulling from pets so that the fibres stay intact for many years. Synthetic turf allows for superior drainage, meaning you don't have to stress about puddles or flooding on your deck. With rounded and protective infill beads, it enables the water to move down the base of the turf in no time.
Choose Echoing Green for Artificial Turf in Toronto
Echoing Green is the top choice for artificial grass in North America, with high-quality, luscious, European turf and infill for even the craziest pets who love to run and dig. We pride ourselves on providing excellent care and service to our customers and are confident you'll love your turf.