Why Install Gym Turf Floorings?
Artificial grass in Toronto is most commonly associated with front lawn replacements and backyard landscaping. Still, it can serve many uses both indoors and outdoors in commercial properties as well as residential. Gym turf flooring is a prime example of the versatility offered by high-quality artificial grass. While most would opt for rubber flooring tiles, there are benefits to incorporating synthetic turf for gyms. Echoing Green, a supplier of high-quality, European-made artificial grasses for a variety of applications from pet turf to landscaping turf, including turf for gyms. You can view all our grasses in our online store.
Here's why gym turf flooring zones are becoming more popular.
Suited to Different Exercises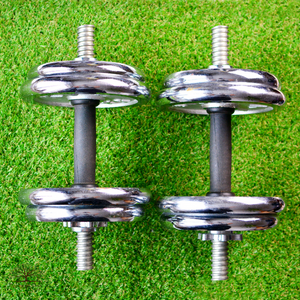 Gym turf flooring from Echoing Green is designed to replicate the look, feel, and functionality of well-taken care of turf, so training for activities and events that traditionally occur on grassy areas or fields is best done in a similar environment like a turf zone. This can be anything from battle ropes, indoor tracks, and agility training, where runners travel in short areas. In these cases, vinyl flooring doesn't offer the same traction and mobility as turf for gyms.
Improved Durability
Whatever is used as gym flooring must be able to endure the constant weight and damage from running, jumping, and equipment. Artificial turf for gyms is designed to withstand wear from continued use from athletes' training. The recommended gym turf is designed with a good tuft lock, keeping fibres of secured and low pile heights (length of grass blade) to enable movement without ruining the flooring itself. Even after extended periods of use, artificial grass from Echoing Green won't flatten or succumb to bald spots.
Economical Maintenance
Especially in commercial gyms, maintenance and thorough cleaning are more important than ever. A generic flooring that becomes damaged and chipped from dropped weights must be taken care of in a timely manner, and in many cases, the problem is recurring. This can run up the bill for gyms working to upkeep machinery and sanitation. Adding flooring to the list of things that need constant attention from staff is expensive. With artificial grass installation, gym owners and employees can take comfort that their flooring will require less maintenance, time, and costs, because of its inherent longevity. Artificial grass from Echoing Green is designed to last decades and is backed by a ten-year warranty.
Shock Absorption
Choosing the right flooring for gyms is incredibly important because it is key to the physical health and safety of gym go-ers. Flooring that is too hard risks creating injuries or making existing ailments worse. Artificial grass for gyms is installed with a shock-absorbing underlay that minimizes the impacts of HIIT (high-intensity interval training) workouts, jumping, running, or even falls that have the potential to be severely damaging. This added technology makes working out safer and less painful.
Easy to Clean
Exercising or training inevitably gets sweaty, so gyms typically employ strict cleaning policies. The good news about artificial grass is that despite its dynamic surface, its cleaning is easy. A simple rinse with water and a disinfectant keeps it clean. From the point of installation, turf for gyms is fighting bacteria and other contaminants independently of additional chemical treatments.
Commercial Artificial Grass Suppliers
Echoing Green carries a full range of artificial grass in Toronto for everything from gyms to patios, stores, restaurants, and more. If you think turf is the right choice for your business, reach out to our team, and we will help you pick the right options.