Why Install an Office Putting Green?
In the last few years, the office landscape has evolved significantly with open office spaces and hybrid work schedules, and businesses are finding new ways to reinvent their office setup. One growing trend for the workplace is indoor putting greens. The step away from the computer and onto lush artificial grass in Toronto may not seem immediately like a business-oriented addition. Still, it actually offers many benefits to internal teams and external partners.
If you're looking to upgrade your office environment with a custom indoor putting green, reach out to Echoing Green. Our exclusive European putting green turf and custom designs will give your workspace a unique touch that your clients and employees will love.
Explore all some of the top reasons you should install an indoor putting green in your office.
Break from the Computer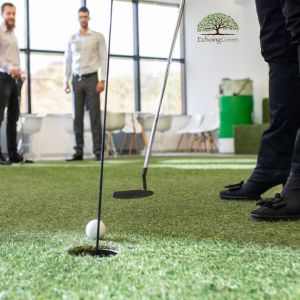 The fast-paced, busy lifestyle of an office employee often consists of hours spent typing away on the computer and answering phone calls. During the average 8-hour shift, this can be hard on the body, leading to repetitive strain injuries in the arm and neck or even digital eye strain from long periods of time staring at a screen. A custom putting green located in the office gives the members of your team an excuse to get up and take a break from their computers. Just standing upright and walking around on comfortable putting green turf can help decompress the spine and minimize work-related musculoskeletal stress.
Connect with Teams
Larger businesses can sometimes face troubles with cross-team communication and collaboration. Communication silos that occur when departments don't interact with each other can limit the potential of internal efforts. In most cases, communication silos arise because there is minimal opportunity for teams to become acquainted. A custom indoor putting green presents a backdrop that facilitates intermingling between teams. Over a friendly game of golf, your employees can build stronger relationships without the pressure of deadlines at the forefront of their focus.
Engage Your Customers
It's a long standing tradition that business discussions be accompanied by a round of golf. But when you can't hit the links with your customers, an indoor putting green is a fun and functional alternative. As you discuss opportunities and plans, you can operate within the comfort of your office while sinking puts, which encourages camaraderie and enhanced business relationships.
Branding Opportunities
Artificial grass in Toronto from Echoing Green is not standard in any way, shape, or form. When you order putting green turf or any commercial artificial grass from Echoing Green, we offer the ability to print your logo and incorporate company colours in your grass. By opting for the artificial grass branding opportunities in and around your indoor putting green you can create a memorable visual for your customers, prospective and existing, which will keep your company top of mind.
Build a Custom Putting Green with Artificial Grass in Toronto
At Echoing Green, you can build a custom indoor putting green with our luxury putting green turf. From topography to hole location, you can create an entirely unique layout that keeps play interesting day after day.
Ready for an office putting green?