Why Choose Echoing Green for Wholesale Artificial Grass?
Landscapers or retailers looking to expand their business offerings to include artificial grass in Canada must find a wholesaler or vendor that checks all their boxes, including pricing, flexibility, and quality. With many wholesale artificial grass suppliers available, you might consider choosing Echoing Green.
Here are 7 reasons you could benefit from Echoing Green as your artificial grass supplier.
Exclusive Supplier of European Artificial Grass in Canada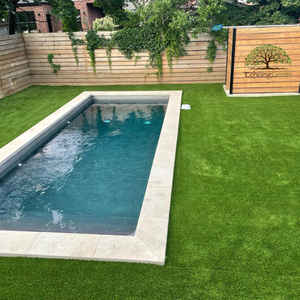 Unlike many wholesale artificial grass suppliers in the country using American-made turf, Echoing Green is a supplier of high-quality European designed and manufactured artificial grass in Canada that is durable, UV-resistant, and non-toxic. By stocking wholesale turf from Echoing Green, your company will be one of the few offering the exceptional product. European artificial grass from Echoing Green is designed to offer longevity and even high-level performance in Canadian climates.
Save Costs with Affordable Wholesale Pricing
When looking to purchase wholesale artificial grass in Canada from Echoing Green, you can save on bulk quantities with exclusive deals, member pricing, and wholesale pricing. When you shop our selection of wholesale grasses, you can mix and match grasses and other artificial grass installation supplies to suit your inventory needs and stay stocked at a low cost.
Anytime Orders from Online Artificial Grass Suppliers
The schedule of a business owner can be unpredictable, and sometimes purchasing supplies or stock doesn't fit neatly into the confines of business hours. Wholesale artificial grass suppliers with an online store allow you to log on any time of the day, any day of the week, regardless of the time to order your artificial grass supplies in Canada.
Place Artificial Grass Orders on Any Device
In addition to around-the-clock ordering, our online artificial grass store allows landscapers and retailers to log in from any type of electronic device. Previously most landscaping supplies had to be ordered via in-person, phone call, or computer. Our mobile-accessible store means landscapers and contractors can put through orders for artificial grass in Canada while on the road or directly from the job site, maximizing ease, convenience, and efficiency.
Full Range of Synthetic Turf & Supplies
In addition to artificial grass in Canada, Echoing Green is a supplier of all related supplies and equipment. You can purchase or stock everything you need for a high functioning and quality artificial grass installation, including fasteners, underpadding, infill, weed barriers, and much more.
Trusted Professional Turf Installation Services
If you want to offer artificial grass installation but are not familiar with the process yourself, Echoing Green can be more than just wholesale artificial grass suppliers. You can get artificial grass installation services from the Echoing Green team too. With years of experience offering residential and commercial turf installation, you can count on quality workmanship and customer satisfaction from our team of experienced professionals. We also provide professional guidance to help newcomers to artificial grass in Canada get started.
Reliable Artificial Grass Suppliers
Echoing Green has been offering artificial grass solutions in Toronto and elsewhere in Canada for years. We are BBB accredited artificial turf suppliers with 5-star customer reviews. We also offer a 10-year warranty on all of our grasses.
Wanr to learn more about Echoing Green's wholesale artificial grass services?