Why Choose Custom Artificial Grass?
When installing custom artificial grass, there are many benefits compared to the natural grass alternative: the maintenance requirements are minimal, resulting in a substantial cost saving year after year. More than that, the finished installation of artificial grass in Toronto significantly improves the aesthetic appeal of the property.
With custom artificial grass, the possible applications and installations also surpass natural grass, allowing for a wide range of indoor and outdoor solutions. For homeowners and business owners considering artificial grass in Toronto, the experts at Echoing Green can customize turf, from colour, size, shape, and design to enhance practically any space.
Why Choose Custom Artificial Grass in Toronto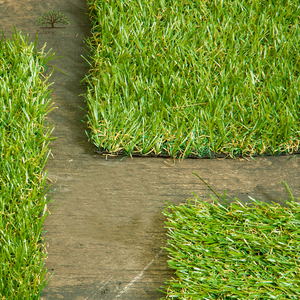 When compared to natural grass, artificial grass requires no watering, mowing, weeding, or fertilizing – and it all adds up to cost savings year after year. Artificial grass is safe and durable for a children's play area or a separate pet zone – and it stays lush and green from season to season year-round.
For unconventional spaces, artificial grass can be easily customized and installed, allowing for custom designs and unique décor. With a professional install, artificial grass improves the aesthetic appeal of a property and enhances it's curb appeal without the hard work required of natural lawns.
Custom Artificial Grass Applications
Whether it's a conventional installation or a custom application, Echoing Green has a solution. We offer an extensive array of grass products, with innovative tufting technology that allows for creative custom designs.
Echoing Green grass products are UV-resistant, ensuring that colours and patterns won't wear out and won't fade. We offer a choice of 16 colours and the capacity to combine up to 6 different colours in the same design. Whatever the application, our artificial grasses can be trimmed to fit a specific space, including unique, non-typical areas. Conventional spaces like patios, decks, and swimming pools are the ideal for artificial grass.
Swimming Pool Surround: Swimming pool landscaping can be noticeably enhanced with a mix of stone and artificial grass. In fact, pool- side turf creates a landscape that is eye-catching and particularly easy to maintain. With the proper drainage installed, residual water will not collect, eliminating any opportunity for flooding.
Outdoor Decks and Patios: Artificial grass is an excellent surface finish for a backyard deck or patio space, regardless of the size. It's a different type of installation, but one that provides a "barefoot friendly" surface that never needs maintenance. Artificial grass is also perfect for trimming interlocking stone or patio stones.
Designated Canine Areas: Pet owners have found that artificial grasses are super-resilient for even the most aggressive dogs. The dogs get accustomed to their new environment quite quickly and gradually adapt their habits. Best of all, dog waste doesn't impact the turf, and doggie fluids easily drain off, making for easy cleaning.
For Quality Artificial Grass in Toronto Choose the Experts at Echoing Green
At Echoing Green, we install high quality artificial grasses that look like natural grass but don't demand arduous and costly maintenance. Our expert installations typically include our proprietary backing that ensures appropriate drainage. Best of all, our products are warrantied for 10 years.